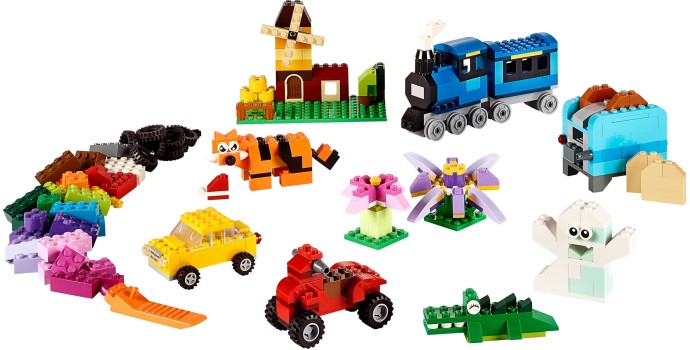 Unpacking the Magic of the Medium Creative Brick Box
The set 10696, also called the Medium Creative Brick Box, is an enchanting concoction of vibrant LEGO® bricks across a marvelous array of 35 unique colors. This magnificent set is part of LEGO's Classic theme, more particularly the Creative Box subtheme with a release date dating back to 2015.
A Glimpse into the Past
Standing on stage for the first time on January 1, 2015, this creatively stimulating set has since become a staple for builders, both young and old for half a decade. It stands as a testament to unbridled creativity and ageless fun, though we are still awaiting its official retirement notice.
An Artists's Palette in a Pack
Assemble your dreams from this versatile crew of 484 LEGO pieces, carefully curated for boundless open-ended play. This Classic LEGO set is more than just a mix of bricks; it's akin to an artist's palette that fuels any creative imagination. The presence of elements like visual windows and quirky eyes charges the kit with an extra jolt of inspiration. And let's not forget the epic assortment of wheels — truly exhilarating for any vehicle enthusiast!
Play Without Limits
This LEGO set invites you to create your own fantasy world built on playfulness and innovation. The extent of your adventures are only tethered by your imagination — whether it's designing intricate buildings or constructing moving toys. Whatever you conjure up, this box will be instrumental in making it come to life!
Additional Features
At £24.99 / $34.99 / 29.99€ and boasting an attractive price-per-piece ratio (5.2p / 7.2c / 6.2c), this set offers tremendous value without compromising on quality or versatility. Also with a practical green baseplate measuring more than 3" long and 6" wide included in the box, the foundation for creative feats is right at your fingertips.
Suitable for All Ages
The Medium Creative Brick Box stays true to LEGO's inclusive ethos by being suitable for kids as young as four, adults as old as 99, and every age in between! Talk about a box that transcends generations!
Packaging Specifications
Weighing in at around 1.04kg (or roughly 2.29lb), this brick box is substantially lightweight and portable for convenience sake. Its dimensions clock in at about 37cm x 17.9cm x 18cm or roughly translated to inches:14.6″ x 7″ x 7.1″. Plus, these assorted bricks come housed in a convenient plastic storage box to keep your creative ensemble neatly organized when not in use.
Conclusion
In totality, the Medium Creative Brick Box embodies everything there is to love about LEGO® construction sets– dazzling color variety, versatile components, endless building possibilities and cross-generational appeal. So why wait? Enter into this whimsical playground armed with nothing but your imagination and passion for creation.