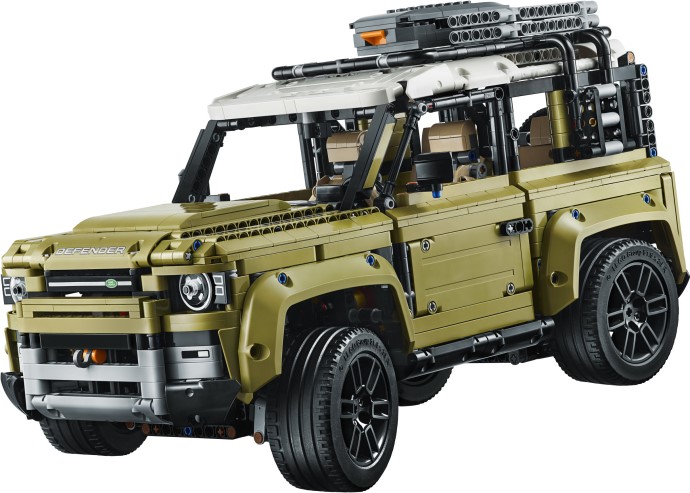 The Intricate and Refined LEGO Technic Land Rover Defender
Elevate your LEGO experience with the meticulous and sophisticated design of the LEGO Technic Land Rover Defender (Set Number: 42110). Released in 2019 as part of the licensed Technic subtheme, this model showcases the vehicle's modern elegance and beautiful sculpted surfaces.
Masterminded by designer Milan Reindl, this set comprises a staggering 2573 pieces. The assembly process is likely to fascinate adults and children aged 11+, turning this building adventure into an immersive journey into automotive engineering and design.
A Scale Model of Unrivalled Authenticity
This alluring replication isn't just an ordinary LEGO set. It brings you inside the world of luxury all-terrain vehicles with its intricate representation of Land Rover's world-renowned off-road marvel. Honorably wear those prestigious Land Rover badges on authentically designed bodywork, accentuated by subtle olive green, grey, and black hues.
Roaring underneath its bonnet is a detailed in-line 6-cylinder engine, minus the oil mess. You can marvel at the realistic pulsating pistons by simply elevating the bonnet—a sight that will thrill any automotive enthusiast.
Sophisticated Features for Fascinating Play
A walk around this Lego model reveals an impeccable attention to detail. Prepare to be wowed by original-design rims adorned with rubber tires designed to mimic real-life ground-gripping abilities. Remove the roof rack and reinforce your creativity by playing with storage boxes, panniers, a ladder, and traction mats.
Another highlight of this model is how both cabin doors swing open to reveal a delicately detailed interior. Behold a functional steering wheel and forward-folding rear seats that offer you an exclusive sneak peek into the advanced 4-speed sequential gearbox—a first-of-its-kind transmission system in the LEGO Technic universe.
Take Control with Multiple Working Features
This exceptional model ensures a captivating engagement with various working features. Experience, firsthand, the power of All Wheel Drive with three differentials, and enjoy smooth rides thanks to independent suspensions on both axles. Another hidden gem in this set is a functional winch— adding some real off-roading vibes.
The adventure doesn't stop there. Rotate the spare wheel mounted at the rear to access the tail door as you explore more details within this scale model. Don't forget to check out the comprehensive sticker collection designed to enhance authenticity!
Redefining Building Experience
The LEGO Technic Land Rover Defender pushes the boundary by integrating complex technical elements into traditional LEGO play— making it one of its most mature offerings yet. Assembling more than 2,500 parts offers builders an intense yet fulfilling challenge that transcends typical play-time activity.
Retailed for £174.99 / $199.99 / 199.99€ upon its release, this regal scale model measures over 8" (22cm) high, 16" (42cm) long and 7" (20cm) wide when completely assembled—definitely worthy of central display space after completion.
An Ode to Excellence
In summary, the LEGO Technic Land Rover Defender is a jewel in any collector's crown that perfectly captures Land Rover's reputation for excellence and refinement in automotive design. It is not just a toy but a testament to possibilities— when imagination meets technical brilliance. Its retirement date on December 31st, 2022 marks an end of a milestone—but its legacy will continue to inspire future builds.