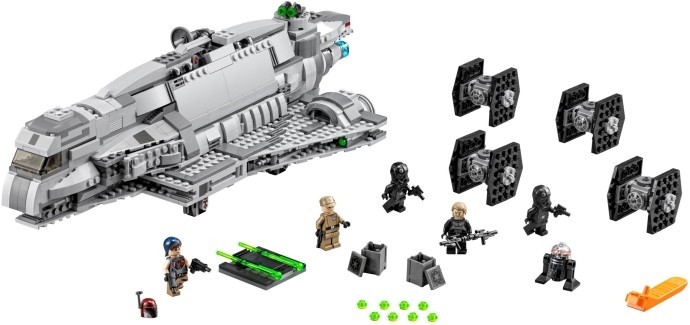 Immerse Yourself in the Star Wars Universe with the LEGO Imperial Assault Carrier
Fans of Star Wars and LEGO enthusiasts alike will love the action-packed adventure that comes with the 75106 Imperial Assault Carrier set, inspired by the popular Star Wars Rebels animated TV series. This expansive LEGO set transports you to a galaxy far, far away, where you can transport TIE Fighters into battle against the rebels with your very own Imperial Assault Carrier.
Product Features and Specifications
The 75106 Imperial Assault Carrier is an impressive piece in the Star Wars LEGO collection. With 1216 pieces to assemble, this challenging set is designed for ages 9-14 and offers hours of creative fun for both kids and adults. When fully assembled, the carrier measures over 5″ (14cm) high, 18″ (46cm) long, and 8″ (22cm) wide, making it a fantastic centerpiece for any Star Wars-themed room or display.
Innovative Design Elements
The design of this starship boasts carefully thought-out features that will excite any Star Wars fan. The lifting handle makes it easy to transport both the ship and its mini-scale TIE Fighters. The opening cockpit allows space for a minifigure, while the lift-off fuselage offers access to a detailed interior complete with missile storage bay, extra missiles, and ammo cargo boxes.
Even more thrilling is the launch function for the vehicle's four mini-scale TIE Fighters, enabling players to reenact intense battles with exciting authenticity. Twin spring-loaded shooters provide action-packed play, while the rotating gun turret with dual stud blaster adds an extra layer of excitement.
Iconic Minifigures
This set doesn't skimp on details when it comes to the minifigures that come with the Imperial Assault Carrier. Fans will enjoy the inclusion of five relevant characters: Agent Kallus, Imperial Officer, Sabine Wren in her Mandalorian outfit, and two TIE Pilots. Additionally, an Imperial Astromech Droid minifigure with a clear dome element adds to the overall appeal of this expansive set.
Weapons and Accessories
No set from a galaxy at war would be complete without weapons and accessories. The 75106 Imperial Assault Carrier is no exception, offering three blaster pistols, Sabine's two Mandalorian blasters, and Kallus' weapon. Ready for rearming with all the extra ammo included, this carrier becomes an unstoppable force within your LEGO Star Wars collection.
Enter the World of Star Wars Rebels
LEGO has created a faithful representation of the Imperial Assault Carrier from the Star Wars Rebels animated TV series. Battle-ready with spring-loaded shooters, rotating gun turrets, and missile storage bay, this set has everything you need to bring your favorite episodes to life in your own home. Fans of the series will be delighted to join Agent Kallus, Sabine Wren, and their comrades as they take flight in the 75106 Imperial Assault Carrier.