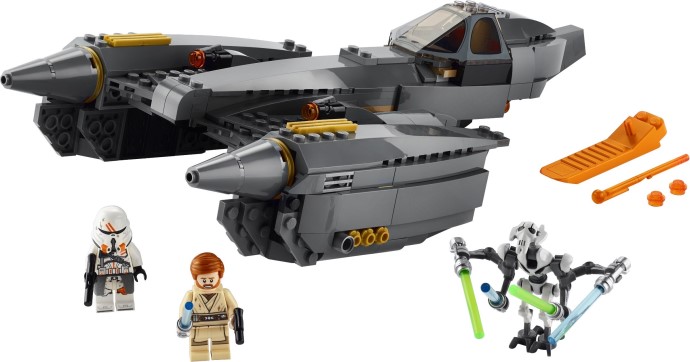 Embark on Intergalactic Adventures with General Grievous's Starfighter
Get ready to explore a galaxy far, far away with the incredible LEGO® Star Wars™ General Grievous's Starfighter (75286) set. Designed for kids and Star Wars fans aged 9 and up, this stunning spacecraft will transport you into the action-packed world of Episode III and beyond. With authentic details, play-inspiring features, and an impressive lineup of minifigures, this building toy is the perfect addition to any LEGO collection.
A Truly Authentic Spacecraft Experience
Crafted from 487 pieces, General Grievous's Starfighter offers an engaging and fun building experience for kids and Star Wars enthusiasts alike. The completed model measures over 3" (8cm) high, 11.5" (30cm) long, and 6.5" (17cm) wide, making it an impressive display piece as well as a fantastic playset.
Boasting a range of amazing features such as the opening cockpit, spring-loaded shooters, and retractable landing gear, there's no shortage of imaginative play opportunities with this awesome spacecraft. Enjoy hours of intergalactic adventures as you pilot General Grievous through space or land on distant planets.
Minifigures Ready for Battle
The General Grievous's Starfighter set comes complete with three iconic LEGO® Star Wars™ minifigures – General Grievous himself, Obi-Wan Kenobi armed with his trusty Lightsaber, and an Airborne Clone Trooper equipped with a blaster. Engage in epic battles between Grievous and Obi-Wan or reimagine your favorite scenes from the Revenge of the Sith film as you role-play with these fantastic characters.
A Gift Idea That's Out of This World
Whether it's a birthday present, holiday gift, or a special treat for any Star Wars fan, the General Grievous's Starfighter set is a wonderful choice for both solo and group play. With endless creative possibilities and a price tag that won't break the bank, this building kit promises to delight fans of all ages.
High-Quality Building Experience & Safety Standards
As part of the LEGO® Star Wars™ theme, this building set has been designed to meet the highest industry standards since 1999. Every brick and piece undergoes rigorous testing to ensure they're consistent, easy to connect and disconnect, and above all – safe.
For those new to LEGO® sets, fear not! The General Grievous's Starfighter comes with comprehensive, illustrated instructions that will guide you through the building process with ease. So, what are you waiting for? Unleash your inner Jedi and embark on an unforgettable journey with this amazing LEGO® Star Wars™ spacecraft.