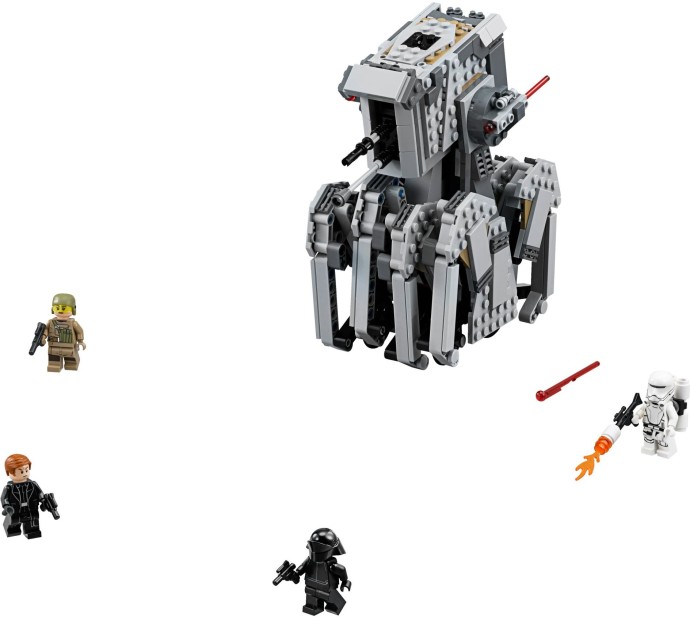 Discover the Mighty First Order Heavy Scout Walker
Step into the world of Star Wars with the impressive LEGO® First Order Heavy Scout Walker, inspired by the renowned Star Wars Episode VIII movie. This powerful battle machine boasts fantastic features that are sure to delight and challenge both LEGO and Star Wars enthusiasts alike. With its intricate details, action-packed functions and an exciting collection of minifigures, this set is a must-have for any fan of a galaxy far, far away.
A Battle-Ready Machine
Designed after its appearance in The Last Jedi movie, the First Order Heavy Scout Walker offers an authentic and immersive building experience. The armored walker sports a 2-minifigure cockpit with an opening top hatch, allowing General Hux and his First Order Gunner to strategize and command their forces effectively. The 554-piece model's dimensions clock in at 38.2 x 26.2 x 5.6 cm (15 x 10.3 x 2.2 in), making it a sizable addition to your Star Wars LEGO collection.
Action-Packed Features
The intricate details on this Heavy Scout Walker provide an interactive and engaging experience. Boasting spring-loaded shooters at both sides, elevating weapons at the front, missiles storage clips, and hidden wheels that turn to give the illusion of 'crawling' legs when pushed — every aspect of this formidable machine comes together to create a powerful display of strength and agility. The detailed model captures the spirit of its on-screen counterpart while keeping playtime exciting and hands-on.
A Formidable Cast of Minifigures
No Star Wars LEGO set is complete without an array of popular characters from the franchise! This First Order Heavy Scout Walker set includes four highly-detailed minifigures: General Hux, a First Order Gunner, Resistance Trooper, and a First Order Flametrooper. Each character is equipped with their respective weapons, ensuring that your battles are as true-to-life as possible.
Worthy of Your Star Wars LEGO Collection
With its intricate design and exciting features, the First Order Heavy Scout Walker is a perfect addition to any Star Wars fan's LEGO collection or an engaging gift for children aged 9 to 14. At a recommended retail price of £49.99 / $49.99 / 59.99€, this set offers hours of imaginative play and the thrill of bringing one more piece of the beloved Star Wars universe to life.
In Conclusion
The LEGO® First Order Heavy Scout Walker offers an action-packed building experience for any devoted Star Wars fan. With its authentic design, interactive features, and engaging cast of minifigures, you'll be sure to enjoy countless hours of intergalactic battles in the comfort of your own home.