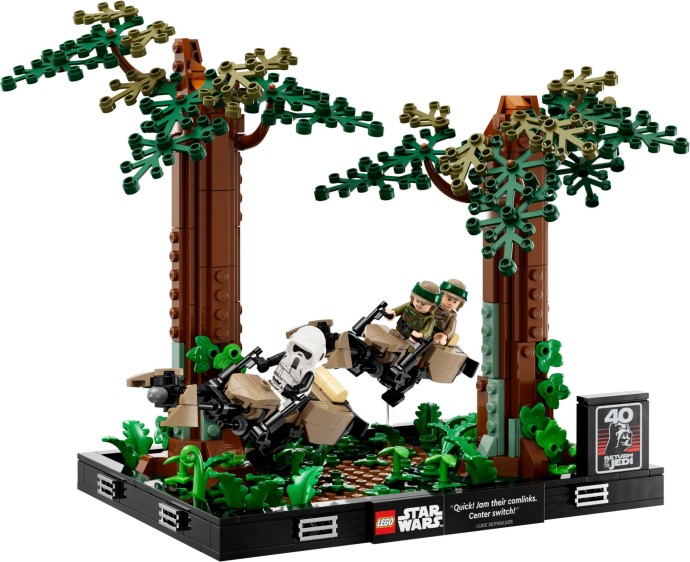 Embark on the LEGO® Adventure with SET_NAME
Get ready to immerse yourself in the exciting world of Star Wars with the all-new LEGO® Star Wars™ Endor Speeder Chase Diorama (75353). Designed to capture the true essence of the exhilarating speeder chase scene from Star Wars: Return of the Jedi, this set promises endless fun and a creative challenge for adult collectors and fans alike. With its 608 pieces, detailed minifigures, and incredible builds, it's time to embark on an intergalactic adventure like never before!
Experience a Galaxy Far, Far Away through LEGO® Excitement
The Endor Speeder Chase Diorama offers a superbly detailed representation of the iconic scene where Princess Leia and Luke Skywalker race through the forests of Endor on their speeder bikes. The set includes transparent elements for posing the bikes at dynamic angles, simulating their breakneck speed through this thrilling chase.
Accompanying these speeders are three meticulously designed minifigures – Princess Leia, Luke Skywalker, and a Scout Trooper – each equipped with their respective weapons: Luke's green lightsaber and blasters for Leia and the scout trooper. To enhance the authentic forest vibe, two buildable trees and new-for-May-2023 fern elements are included, allowing you to recreate this action-packed moment in exquisite detail.
Build Your Own Star Wars Universe
This stunning diorama set is just one of many in the ever-growing LEGO® Star Wars Sets for Adults collection. Each buildable diorama captures a memorable scene from the beloved saga, encouraging collectors to expand their galaxy far, far away. The inclusion of a commemorative plaque featuring both Luke Skywalker's quote ("Quick! Jam their comlinks. Center switch!") and the 40th anniversary logo of Star Wars: Return of the Jedi adds the perfect finishing touch to this captivating masterpiece.
A Gift Worthy of an Intergalactic Hero
Searching for the perfect gift for that special Star Wars enthusiast or LEGO® collector in your life? Look no further! The Endor Speeder Chase Diorama ticks all the boxes as a thoughtful, entertaining, and creative present. Whether it's for a birthday, a holiday, or simply a gesture of appreciation, this set is sure to ignite the imagination and passion of any Star Wars fan, young or old.
Guidance from the LEGO® Builder App
The accompanying LEGO® Builder app offers a seamless building experience, allowing you to easily view instructions, zoom in on features, and rotate models in 3D. It's a fantastic tool that ensures you stay organized and focused throughout your interstellar construction journey. Plus, the high-quality LEGO® components ensure stability and durability with every build.
Step into a Galaxy Far, Far Away
With the Endor Speeder Chase Diorama by your side, you'll not only be paying homage to a cherished moment from Star Wars history – you'll be bringing it back to life through your very own LEGO® creation. So gather up your courage, ignite your imagination, and prepare to embark on an unforgettable journey through a galaxy far, far away!