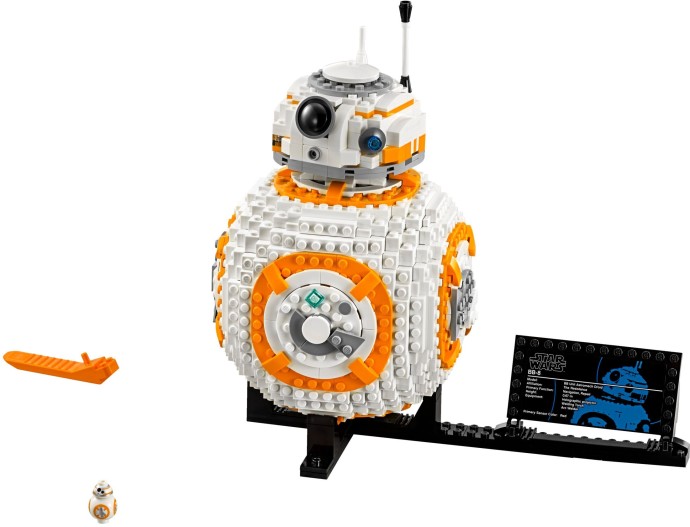 BB-8: The Perfect Gift for Every Star Wars Fan
If you're looking for the perfect gift for a Star Wars fan, then look no further than the LEGO BB-8 set. This beautifully crafted model is a faithful reproduction of the beloved astromech droid from the latest Star Wars trilogy and is sure to be appreciated by fans of all ages.
Astounding Detailing
One of the most impressive features of this set is its incredible detailing. From the intricate head to the access hatch and extendable welding torch, every aspect of BB-8 has been replicated with painstaking attention to detail. This ensures that the final product is both an accurate representation of the character and a thing of beauty in its own right.
Interactive Functionality
Another great aspect of this set is its interactive functionality. The model includes a wheel-activated rotating head and an opening hatch with a non-functioning welding torch. This allows you to play with different poses and positions that perfectly capture the spirit and personality of BB-8.
A Display Piece in Its Own Right
The BB-8 set also comes with a display stand, decorative fact plaque, and small BB-8 figure. This makes it not only an excellent toy for kids but also a sophisticated display piece for any collection or desk. It's dimensions and weight make sure that it does not take up much space, while being eye-catching enough to draw some attention towards it.
The Perfect Accompaniment for Any Movie Fans
Designed for kids aged 10 and up, this model is sure to be cherished and adored by fans young and old alike. With over 1,100 pieces included in this set, there are plenty of hours of fun building and playing with this iconic droid. Who would want to be without their own BB-8 when watching "The Last Jedi", the one time he secreted away that piece of the map!
The Bottom Line
So, whether you're a devoted LEGO fan, an avid Star Wars enthusiast or looking for the perfect gift for someone special, the LEGO BB-8 set is definitely worth considering. With its astounding detailing, interactive functionality and sleek design, it's a fantastic addition to any collection.
Product Specs
Product Specs
Product Name:
BB-8
Pieces
1106
RRP
£84.99 / $99.99 / 99.99€
Release Year
2017
Theme
Star Wars
Instructions
Lego BB-8 Instructions