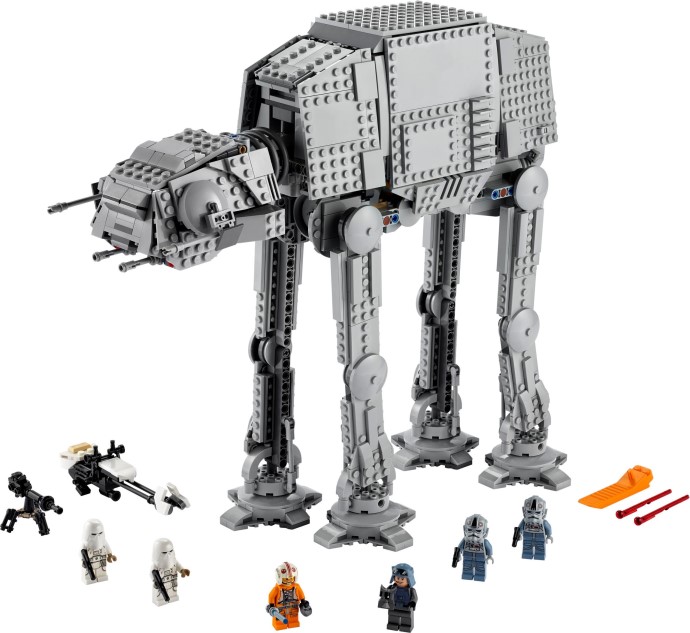 Discover the AT-AT: An Iconic Star Wars LEGO Set
The AT-AT (75288) is a must-have LEGO set for any avid Star Wars fan. This highly detailed and posable set brings the excitement of the classic Star Wars trilogy into the world of LEGO building. Perfect for kids aged 10 and above, this impressive set comes with a whopping 1267 pieces, making it an excellent choice for those looking for an engaging and challenging building experience.
A Trip to the Battle of Hoth
What makes this AT-AT LEGO set stand out? It starts with the incredible attention to detail – from foldout panels revealing hidden compartments to a winch used by Luke Skywalker to hoist himself up into the belly of the beast. The AT-AT features spring-loaded shooters and even has a speeder bike inside, perfect for staying true to iconic Battle of Hoth scenes in Episode V.
Minifigures Bring the Action to Life
This creative building toy comes with an assortment of 6 LEGO Star Wars minifigures, including Luke Skywalker, General Veers, 2 AT-AT Drivers, and 2 Snowtroopers. Each minifigure is armed with their own unique weapons, such as Luke's Lightsaber and the Snowtroopers' tripod gun. This wide variety of characters enhances role-playing adventures as children recreate legendary battles between the Empire and Rebel Alliance.
A Rewarding Building Experience
The AT-AT set is perfect for solo or group play, making it an excellent birthday present, holiday gift, or special treat for any LEGO Star Wars enthusiast. Kids will love taking on the challenge of assembling this complex 1267-piece set and will feel an immense sense of accomplishment upon completing their build.
Dimensions and Functionality
Measuring 58.2 x 37.8 x 8.7 cm (22.9 x 14.9 x 3.4 in), the AT-AT stands tall and proud, boasting a weight of 1.78Kg (3.92 lb). The AT-AT is not only visually stunning but also filled with numerous interactive features to keep kids engaged and entertained for hours on end.
Unleash the Power of Imagination
No batteries are needed for the Star Wars AT-AT Walker building kit – children's creativity and imaginations provide all the power this intergalactic adventure needs!
Quality Assurance
LEGO sets are known for their high-quality bricks that fit together perfectly and withstand the test of time—this Star Wars set is no exception. With every LEGO brick passing rigorous quality and safety tests, you can be confident in the durability and excitement this AT-AT set has to offer.
In Conclusion
The AT-AT (75288) LEGO set is an amazing addition to any Star Wars fan's collection, delivering an engaging and challenging build along with iconic characters and memorable scenes from the classic trilogy. Don't miss out on your chance to recreate epic battles between the Empire and Rebel Alliance!
Product Specs
Product Specs
Product Name:
AT-AT
Pieces
1267
RRP
£149.99 / $169.99 / 169.99€
Release Year
2020
Theme
Star Wars
Instructions
Lego AT-AT Instructions