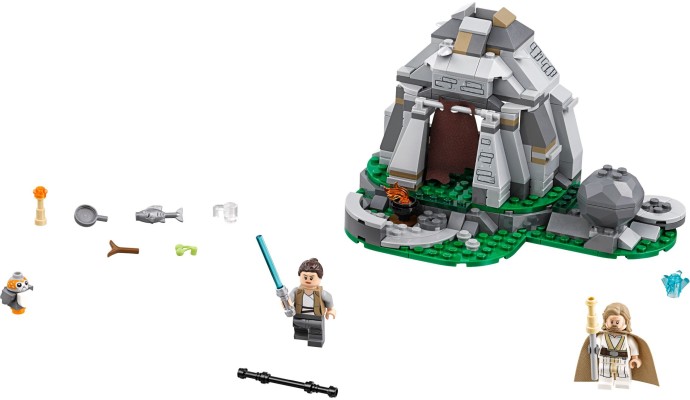 Uncover the Secrets of Ahch-To Island Training Set
Immerse yourself in the fascinating world of Star Wars and relive the breathtaking moments from The Last Jedi with the stunning LEGO® set, 75200 Ahch-To Island Training. Designed by the talented César Soares, this captivating LEGO® masterpiece transports fans to Luke Skywalker's remote dwelling and offers an inspiring and engaging play experience. With intricate detailing, exciting play features, and beloved characters, this set is an excellent addition to any LEGO or Star Wars enthusiast's collection.
Step into Luke's Mountainside Home
With the LEGO® Star Wars 75200 Ahch-To Island Training set, you'll dive into the scene whereLuke imparts his knowledge to aspiring Jedi Rey on his beautiful yet isolated island home. Explore the intricacies of the hut with a detailed interior that has been thoughtfully designed to provide an authentic Star Wars vibe. The removable roof section allows for easy access to the living space featuring a foldaway bed and modest kitchen area, as well as a fabric doorway for added realism.
Action-Packed Training Experience
Witness the incredible bond between Rey and Luke come alive as they engage in rigorous training sessions on their quest for greatness. The rotating training function and opening boulder bring excitement to every playtime with a thrilling knockaway feature that will leave players enthralled. Complete your adventure with lovingly crafted weapons such as Luke's staff and Rey's lightsaber, along with an adorable porg figure perched nearby for added companionship.
Expand Your Collection
The exquisite LEGO® 75200 Ahch-To Island Training set offers more than just hours of fun—it allows fans to connect with their favorite characters on a deeper level. This 241-piece set, containing two minifigures and a porg figure, is ideal for young Star Wars enthusiasts aged 7-12. The captivating build measures a perfect 4″ (11cm) high, 4″ (11cm) wide, and 6″ (17cm) deep, allowing it to seamlessly integrate into existing displays or provide the backbone for an entirely new one.
An Unforgettable Adventure Awaits
Find solace on the enchanting Ahch-To Island with this awe-inspiring LEGO® Star Wars set. Capture the essence of The Last Jedi's pivotal moments and embark on an unforgettable journey as Rey trains under Master Luke's wise guidance. Exquisitely designed with attention to detail and engrossing play features, this set promises to spark joy and imagination in every fan. The force will be strong with you as you delve into action-packed scenes from the blockbuster movie, transporting yourself to a galaxy far, far away with the LEGO® Star Wars 75200 Ahch-To Island Training set.