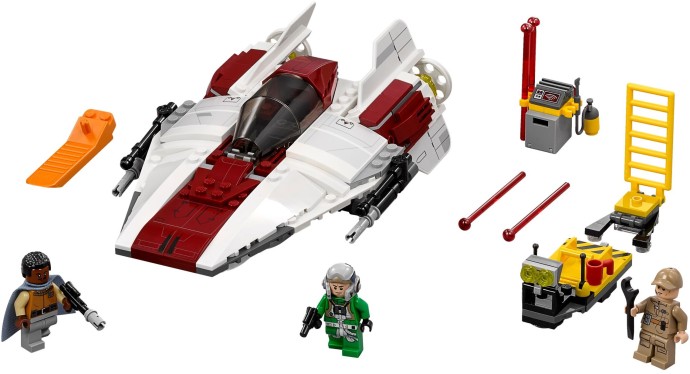 Explore the Galaxy with the A-wing Starfighter LEGO Set
Embark on an interstellar adventure with the LEGO Star Wars Episode VI A-wing Starfighter set. Featuring intricate designs and imaginative play opportunities, this marvelous model captures the essence of the iconic spacecraft from the famous film saga. With a multitude of features, interactive elements, and detailed minifigures, this 75175 set is perfect for fans of the epic Star Wars franchise.
A Stellar Spacecraft with Impeccable Details
The A-wing Starfighter boasts a striking appearance and numerous functional features that will send your imagination into hyperdrive. Prepare for liftoff by opening the minifigure cockpit to seat the skillful A-Wing Pilot and retracting the landing gear. Once airborne, take control of the rotating laser cannons and dual spring-loaded shooters to fend off any incoming enemies.
Incredible Inclusions for immersive Gameplay
No intergalactic mission is complete without a trusty ground crew to keep your spacecraft in tip-top shape. The included service cart contains all the tools necessary for repairs and maintenance, along with extra ammo for those intense space battles. Utilize the detachable access ladder to efficiently load the A-Wing Pilot into position before soar through the vast expanse of space.
Legendary Minifigures Complete the Experience
The A-wing Starfighter set includes three highly-detailed minifigures: Lando Calrissian, an A-Wing Pilot, and a Rebel Ground Crew member. Together, these characters bring life to your LEGO Star Wars missions and inspire countless stories from a galaxy far, far away. Don't forget to arm Lando with his special blaster and gear up the A-Wing Pilot with their trusty blaster pistol!
Fun for the Whole Family
Designed to offer an age-appropriate build and play experience for ages 8-14, this 358-piece A-wing Starfighter set is an ideal addition to any LEGO Star Wars collection. With dimensions of 28.2 x 26.2 x 5.9 cm (11.1 x 10.3 x 2.3 in), it's perfect for display or play. The set includes easy-to-follow instructions and is compatible with other LEGO Star Wars sets, allowing for even more interstellar adventures.
A Remarkable Replica for Fans of All Ages
Whether you're a long-time LEGO enthusiast or a new fan discovering the magic of Star Wars, the A-wing Starfighter is a thrilling way to bring your favorite film moments to life. Priced at £44.99 / $39.99 / 49.99€, this action-packed set offers outstanding value and entertainment for hours on end. So brush up on your building skills and prepare to soar through the galaxy with the incredible A-wing Starfighter LEGO set!