Zombie Cliche Lookout: Montage!
Show a lot of things happening at once,
Remind everyone of what's going on (what's going on)
And with every shot, show a little improvement
To show it all would take too long
That's called a montage (montage)
Girl we want montage (montage)
– Montage | Team America: World Police
That really says it all, doesn't it? When you've got a lot of things that you need to show, or something that changes gradually over time, what better way to do it than with a montage? Naturally, it's a little different in a comic than in a movie. Movies tend to do a lot of cross-fading and fades to black in order to show a transition in time. That doesn't work so well with static images, so instead we have to just use a different scenario for each panel.
About this Episode:
I realize that I use the term "Get Shit Done" a fair bit with this comic. I do that because it's one of my favorite phrases, and something that I am trying to turn into a bit of a personal motto. As a bit of context, here's the coffee cup I use every day: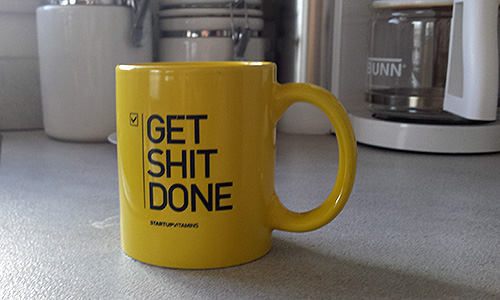 They also do a framed poster with this print. It's glorious, and some day I'm going to have it in my office.
Other News:
I recently reviewed the book Threnody. I enjoyed it, but had some criticism about some of the word choice and other minor issues. I just received and email from the writer who let me know that he has re-released the book to address these issues. I think this is super cool, so if any of you were on the fence about this book, maybe this will help you make the call.
Discussion Question: Dealing with Big Jobs
We can, unfortunately, not use a montage in real life to get through big, often unpleasant jobs. It's a damn shame. If we could we'd all live rich, fulfilling lives six pack abs. So how do you deal with big jobs, unpleasant responsibilities, and things that just plain take a long time to do? Are you procrastinators? Do you meticulously break things down into smaller tasks? Do you just dive in and start working?