Zombie Cliche Lookout: Surviving Winter
When people talk about surviving the zombie apocalypse, they usually think about fighting zombies and scavenging for food. What rarely comes up is dealing with mother nature. In the first world, we enjoy an unbelievable amount of creature comforts, so much so that very few of us ever have to think about our actual needs. That's right, our needs are often so assured that we're more concerned with our comforts. And don't think I'm being judgmental here, I am just as guilty of this as everyone else.
Of course, during a zombie outbreak, those assurances and creature comforts are going to be interrupted in a big way. Getting hungry? Forget about running to the grocery store. Feeling chilly? Don't bother with the thermostat, gas service has been interrupted permanently. Suddenly, these things you never really think about are going to jump up your list of priorities quite a bit. And then there's the weather. How do you cope with winter? Flooding? Heat waves? Droughts? Things are often more complex than planners expect.
About this Episode:
As promised, here are some in-focus shots of my trees. They're not the greatest builds in the world, I know, but they just need to look decent while out-of-focus in the background. I think they do their job pretty well in that regard.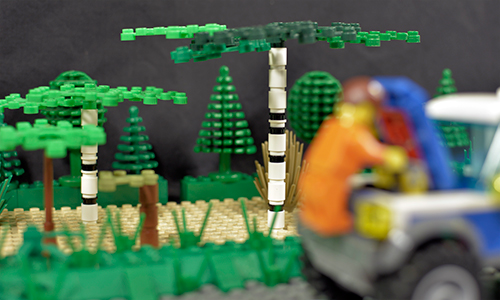 Discussion Question: Flying South?
I grew up in northern Michigan, so I'm used to cold winters. As such, I can see a lot of advantages and disadvantages with them in a zombie survival situation. The big advantage? Hopefully, the zombies freeze until spring. Of course, that leaves us struggling to find food and stay warm, things that might not be as easy as we would like to think. This makes me wonder: where would people be better off in a zombie survival situation: someplace that's warm most of the year, or a place – like Michigan – with changing seasons?