Zombie Cliche Lookout: Pragmatism
I like to think of myself as a pragmatist, although I know that's only true in the best of circumstances. Most of us are like this. We would certainly like to make choices as practically as possible, but we're all human. We're imperfect beings with biases, favoritism, and bad information. That said, it's probably the best approach when you're stuck in a situation like Cheryl, Brent, and Stewart. Cheryl could only help one person at a time, so she tried to make the decision in as practical a way as possible: saving Stewart was very possible, saving Brent wasn't nearly so clear. She went with the sure thing.
Of course, you could easily argue from the other perspective: Stewart only had a single zombie to handle, and was thus more likely to be able to do so on his own. Brent had two zombies to deal with, and was thus more in need of help.
About this Episode:
As we've seen, this isn't a huge cabin. And we've got quite a lot of people crammed inside. People are doing their best to give Inez and Brent a quiet moment of privacy, but that's pretty hard to pull off in such a small area, and they're going to eavesdrop whether they want to or not. Having heard Inez, it looks like Cheryl isn't super happy with what she has to say.
Other News:
Well, I'm back at work following my surgery. The surgery itself went quite well. They pulled the screw out and I was back home in about two hours. Unfortunately, I didn't handle the anesthesia terribly well. It made me incredibly tired for days. I finally started feeling normal again on Monday, so, yeah, sorry about the delay on the comic. I just didn't have it in me.
But, hey, here's the screw that was in my leg (only eight left in there):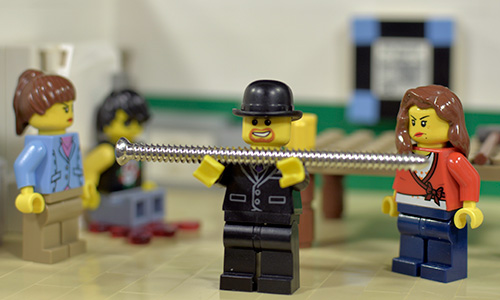 The nurse at the hospital said I should get a lag bolt from the hardware store, just to mess with you guys, but this is a real deal.
Discussion Question:
Put yourself in Inez's shoes for a moment. You've recently been folded into this group, and aren't really sure who you can trust. You've had issues with Murphy, one of the leaders of the group, and now your only real ally has been bitten and infected by the zombies because another member of the group chose one of their own over your friend. Can you come to trust these people? Can you work with them? How do you proceed going forward?