I haven't been doing a LEGO zombie creation every week lately because my new job is really putting the squeeze on my free time, and something's got to give. Despite that, I do want to feature cool builds on here when I find them or they're sent to me. Today, I have one of the latter, called "Zombie Breakout in Zone B Area 6" by Nick Sweetman. Check it out: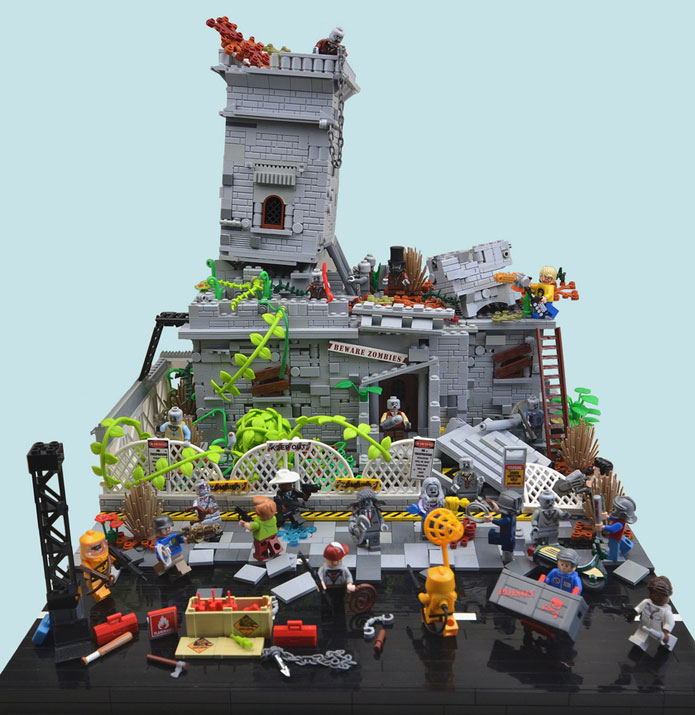 What's Going On?
In short: a lot.
Nick wrote up a nice little back story on this build on it's Flickr page, so make sure you click through and check that out. The short version is that, following a zombie outbreak, the remaining zombies were settled into preserves, which naturally attract all sorts of daredevils and hunters. And that's exactly what we see here, loads of hunters trying to kill or capture zombies for various reasons.
What Do I Like?
The thing that really grabs my attention is the tower. Not only is it the only thing in the top third of the shot, it's also severely cantered, suggesting that it could collapse at any time. It's a small thing, but it really adds an element of tension to the creation.
I also love just how chaotic this build is. There's just so much going on that it takes you a while to parse out all the various little stories.
What Could be Improved?
I have a fairly minor complaint here, and that's focuses on the blacktop road in the foreground. That road is just in too good of shape. I'd love to see it all beat to hell and overgrown, like the rest of the landscape in the build.
All in all, this is a great LEGO zombie creation, with tons of crazy action. Thanks to Nick for sending this in!