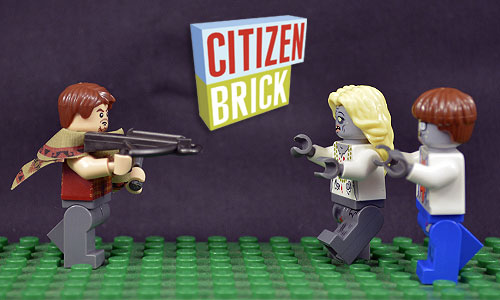 Our friends over at Citizen Brick has put together a bunch of awesome new zombie stuff for 2013, including custom printed heads, torsos, and a minifigure of everyone's favorite hillbilly zombie slayer. Let's take a look, shall we?
"Go Back" Sign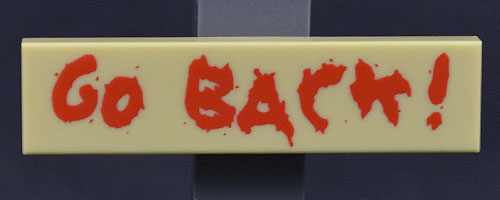 First up, another cool sign (not unlike their "Dead Inside" sign). This is on a 1×4 tile, and the writing looks like it was quickly and crudely written out with whatever was on hand: blood. The printing is great, and I love that there are little splatter marks mixed in there. This is a nice scene-building item.
Male Zombie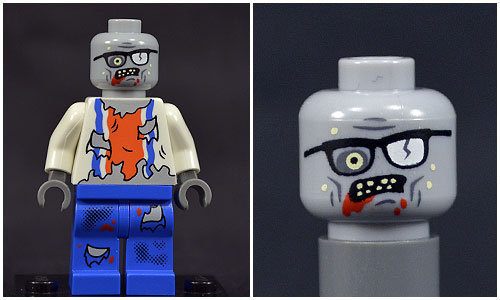 These next two are actually a three different items put together: a custom head, torso, and legs. This gives you tons of mixing and matching potential.
I'm calling our fist zombie collection "Male Zombie", because I'm really creative like that.  The face features broken glasses, which is just fantastic. Lots of people wear glasses, so it's really nice to be able to reprsent that in the zombie population. I'm a big fan of more diverse zombies, so this is a must have for me. It's got some nice touches as well, like the pustules, and the blood around the zombie's mouth.
As icing on the cake, the torso and legs both features torn, dirty prints with exposed gray flesh underneath. There's even some blood on the pants. I really like the printing here; it reminds me of old-school LEGO®; it's just detailed enough without being too realistic.
Female Zombie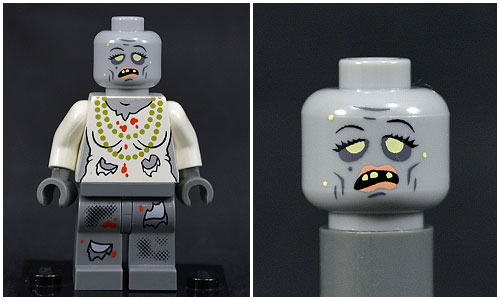 Next up, "Female Zombie". Right off the bat, I love that we get a non-male zed. With all the official and unofficial parts out there, I think this is only the second female zombie available, so this is an extremely welcome product form my perspective.
So how do you make a female zombie? Just like in the cartoons: exaggerated eyelashes and lipstick. I really love this look. I also like the expression on this zombie's face. She looks sad, and tired. I like the aggressive zombies just fine, but it's great to mix in other looks: sad, confused, bored, etc.
Like out male zombie, the female version boasts torn up, filthy, and bloodied clothes that really add to the overall effect.
Zombie Hunting Enthusiast
Next we get Daryl–er, "Zombie Hunting Enthusiast", modeled on the breakout character from AMC's The Walking Dead. I'm really impressed with the custom, and not just because of the great design and printing. What really gets me, is how much Citizen Brick does with this figure. Not only do you get a figure and two weapons (a crossbow and a knife), you also get a cloth poncho and a second torso to give him a different look. Both torsos have front and back printing, with lovely details.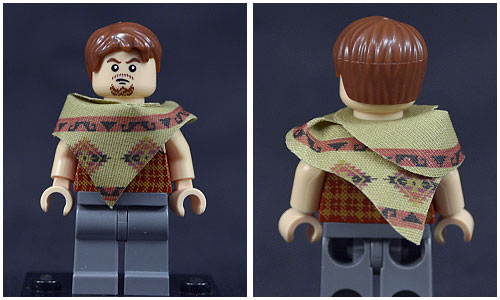 Here we find our zombie hunter with his poncho, looking very Spaghetti Western. The texture in the poncho is great, and makes for an interesting contrast to the ABC plastic of the figure itself.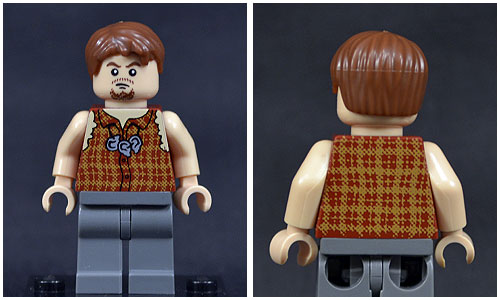 Without the poncho the figure has a flannel with the sleever torn off, and a signature necklace of zombie ears. Nice!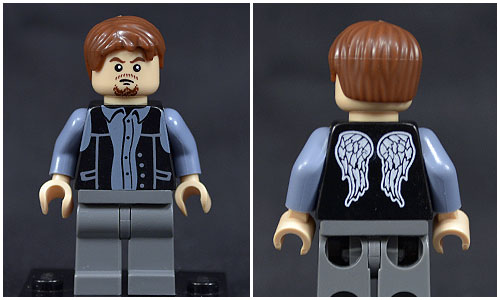 Finally, you can redress him in the biker vest, which features the angel wings on the back. This looks awesome, plus there's no fleshie-color on this torso, so you can easily use it on your traditional yellow minifigs. Bonus!
This last little bit is probably going to get thrown away almost immediately by most buyers, but I really have to call out the design of the backing card. It's just perfectly done. It's got a sort of 70's style coloring to it, like something right out of the grindhouse. Really nicely done.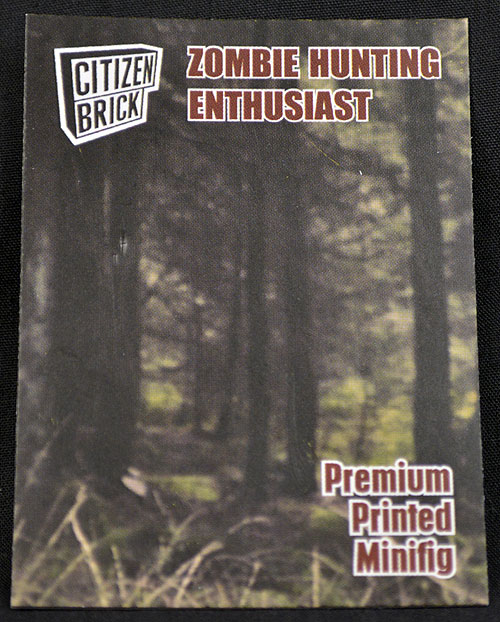 The Verdict
As always, Citizen Brick does not fail to impress. They've got some incredibly high quality printed items, and I absolutely love how much they cater to the community of zombie LEGO® fans out there. If you're looking to pick up some LEGO® zombies, look no further than Citizen Brick. They're also really great people to deal with.