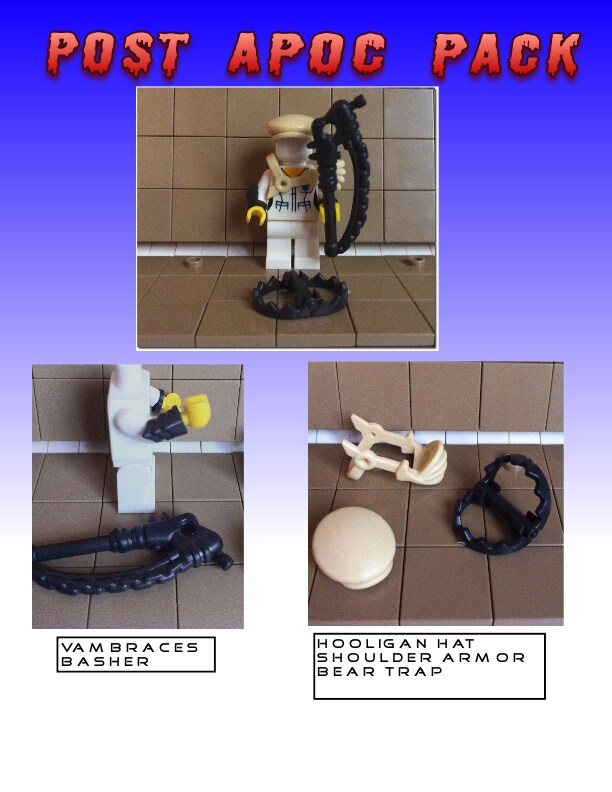 This set of Brickwarriors custom items is the Post Apoc Pack which should be very near and dear to all of our beloved undead hearts.
Vambraces (the forearm armor) to my knowledge has is something that only exists in the custom LEGO world. Its a shame because I absolutely love the way they look and the fit very nicely. No problem at all getting them on. We discussed zombie defense armor on this site recently and I think forearm armor is a must have.
Basher is the weapon of choice for this set. It's a bit odd looking but looks about right compared to some of the war clubs you see out there by companies such as ColdSteel. Even though it was designed as a bashing weapon I think it makes for something better like a flame thrower.
Hooligan Hat is a well done design showing a clear separation between rim and the cap. LEGO hats of this style can sometimes just look like a plastic blob on the mini-fig head.
Shoulder Armor has a great look to it. Had the shoulder padding been done on both sides it would have thrown off the pieced together look of the set. I like how one shoulder is left empty which gives it a balance to the weapon carrying side if you choose.
Bear Trap.  Without a doubt I think this is one of the coolest custom pieces you can find. Sometime soon I will be placing an order with BrickwWrriors and I think a half dozen of them would be a nice start to the collection.  What BrickWarriors did right here was making it a true hinge that clasps together and not something that simply locked it into one position.
To see the entire set for $14 click here for brickwarriors.com
Grade: