There's a lot of zombie stuff out there, and most of it is crap. People like to jump on bandwagons and produce quick tie-ins rather than investing love and effort into their creations. Luckily for you, I'm here to help separate the wheat from the chaff. Check back every Thursday, when I'm going to share the coolest zombie-related creation I can find out there on the web.
The Zombie Creation:
This week's creation didn't have a title, so I gave it one that I thought was appropriate: "Macro Zombies" by Legomiles. Why Macro Zombies? Because, Legomiles did something a little different with his entry that made me smile. Instead of using minifigs, he did brick-built characters, which I'm callings macro-figures for lack of a better term. It's  a clever idea, and pretty ballsy too, considering that he's still only working with 16×16 studs, and his figures are considerably larger.
So What's Going On?
The scene here is fairly typical: we have a barricaded survivor (whom I think is Legomiles himself), and a zed trying to break in. The whole thing is set in either a broken down apartment years after the zombie apocalypse started, or a slum right at the beginning. Either way, it looks sad and neglected, which I really liked.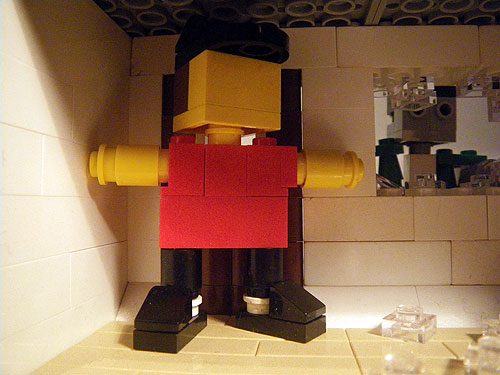 The zed is reaching in through a broken window, while the survivor barricades the door. Just out of reach is a fire extinguisher he could use to brain the incoming zed.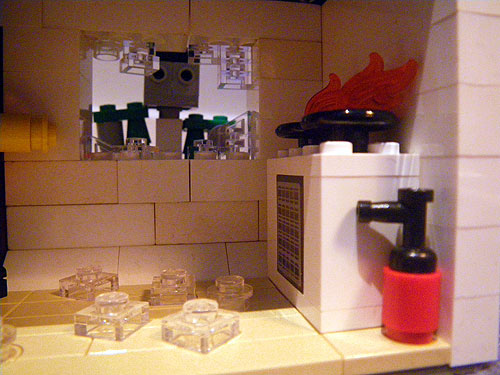 Let's Talk About the Zombies
The zombies, or zombie in this case, is different from any I'd seen before. I'm sure there's a name for this style of build (it looks similar to the LEGOLand scale), but I'm not sure what it is. The zed is cleverly built, and even features some damage: just check out that right arm. Sure, you don't get the level of detail that you would with a minifig, but I think he makes up for it with the dynamic poses and nice usage of parts.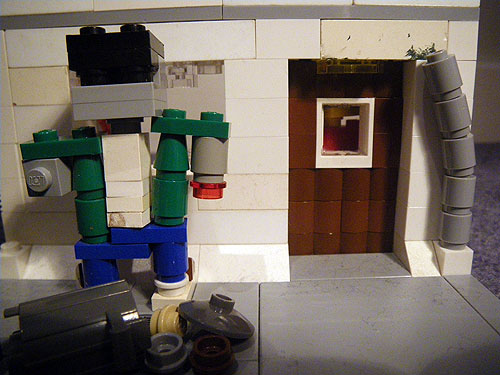 Neat, eh? Here's a better pic of both characters: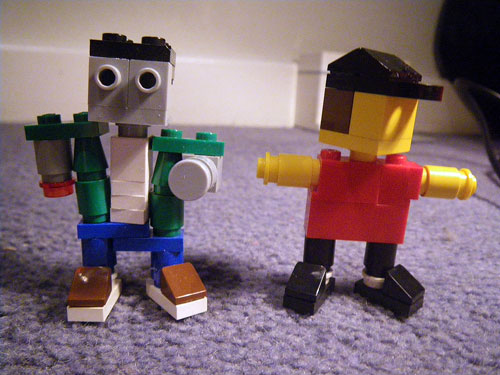 Have you seen a great zombie creation out on the web? Are you working on the next great zombie MOC as we speak? Well you had better let us know right away, otherwise we'll never be able to include it here.