There's a lot of zombie stuff out there, and most of it is crap. People like to jump on bandwagons and produce quick tie-ins rather than investing love and effort into their creations. Luckily for you, I'm here to help separate the wheat from the chaff. Check back every Thursday, when I'm going to share the coolest zombie-related creation I can find out there on the web.
This week's creation, "Zombie's on a Train!" by "Spider JL, shows us how great those printed bricks or ones with decals can be when used right. I don't know about you, but I normally don't use decals since I don't like the way they look, and for some reason I can't get the damn things on straight. But as you can see here they can add a layer of authenticity to a scene which in this case is a train station.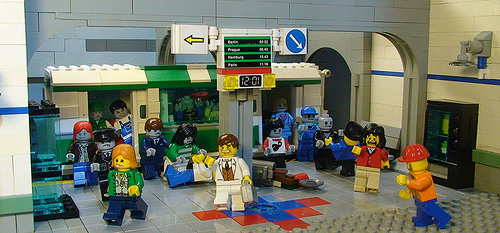 Every part of this MOC was considered, and no detail was left behind. Looking in the back we see some of the dumber zombies confused by the glass left behind on the train. The ones who have made it out have found their prey, which were likely some poor saps on their way to some dreary office job. In the middle of the rush you'll notice a knocked over trashcan which should please our LEGO overlord, Dave.
Aside from the nice tile work on the ground my favorite part of this is the unbalanced fellow to the right that's falling backwards. Nice touch, Spider JL!
Lastly, not to be missed to the very far right is a custom vending machine that is yet another well thought out detail that adds to the realism of this MOC. And as luck would have it I found instructions on how to make it right here.
Have you seen a great zombie creation out on the web? Are you working on the next great zombie MOC as we speak? Well you had better let us know right away, otherwise we'll never be able to include it here.