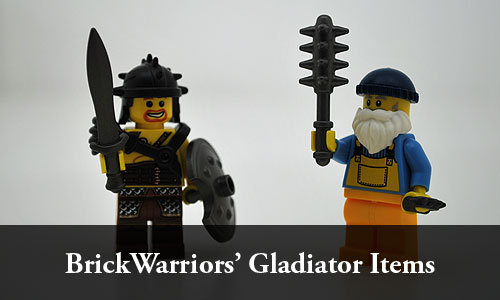 Full disclosure: not all of these weapons and other items are 100% gladiator inspired. But you know what? I don't care. They're all more or less medieval/classical/fantastic, and I think that works for the theme I'm trying to build here. Right? Right? At any rate, on with the review.
Armor
First up, we've got a couple of helmets. The Ranger Helm is a pretty nice piece, with some really interesting curves along its crest. It's also got a tiny eye hole, which makes your minifig look pretty damn menacing. I did notice that this item fits pretty snugly on a minifig head, so removing it from an older figure that doesn't have much grip left on the neck might take a little work.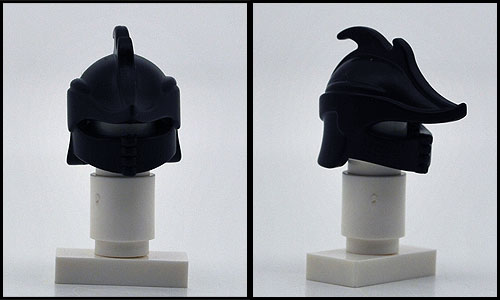 Next is the Goblin Helmet, which is just awesome. It's covered with spikes, but has an open face. I'm not sure is this is directly based on anything in particular, but it makes a minifig look pretty hardcore. I can just imagine these things on a small army of thugs and lowlifes.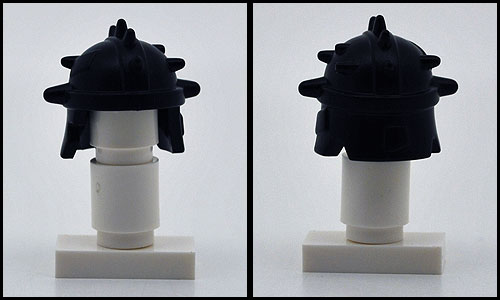 The Gladiator Pauldron is an interesting item. Like the Bandoleer from our Western Review, it takes the place of what is generally painted onto the figure. I really like this item. It's a lot different from what you'd normally expect for an over-the shoulder item, but is also instantly recognizable and adds to the cool factor. The pauldron works for both gladiators and barbarians, as well as post-apocalyptic thugs in the style of Mad Max.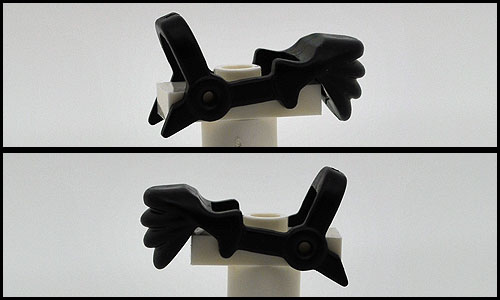 Next is the Trojan Shield, and item I really like. This thing is perfect for building an army, but also works pretty well for a solo character. Right now it only comes in steel, but hopefully they'll release a bronze version someday.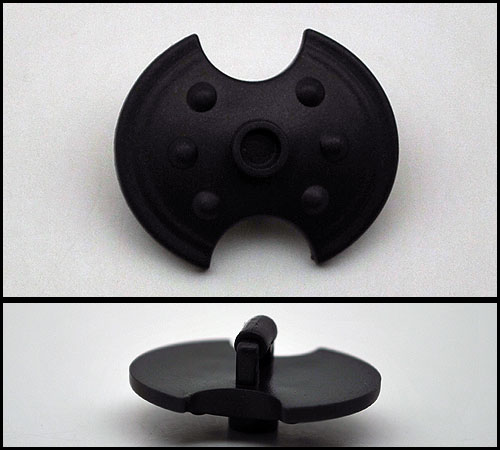 Smashing Weapons
Next up, we've got what I like to call the smashing weapons. The "Skull Crusher" hammer looks like it could indeed easily crush some skulls. The Gladiator Ax looks like it's ready to do some serious chopping, or some impaling with the spike on its opposite site. Finally, the Spiked Mace is just a nasty looking piece of equipment. You really don't want to get hit with that thing.
I guess you wouldn't want to get hit with any of these weapons, but still.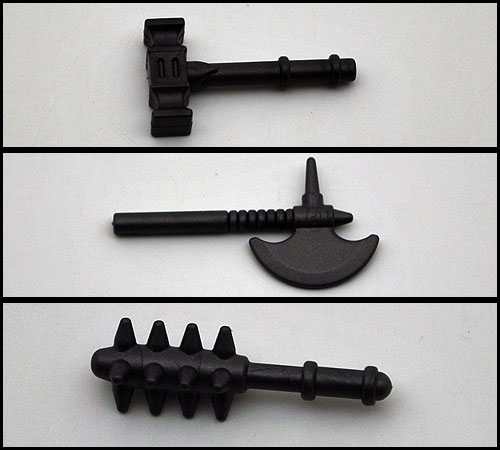 Swords
Next come the swords. The Xiphos, Dervish Blade, and Great Sword are all fantastic additions to your collection. I've always loved the design on the Xiphos (although I never knew what it was called), and BrickWarriors' reproduction does it justice. The Dervish Blade has a fantastic shape, but the real highlight for this item is the styling on the handle. Really great stuff. Finally, the Great Sword is, indeed great. This this is giant; you wouldn't want to mess with the minifig wielding this sucker.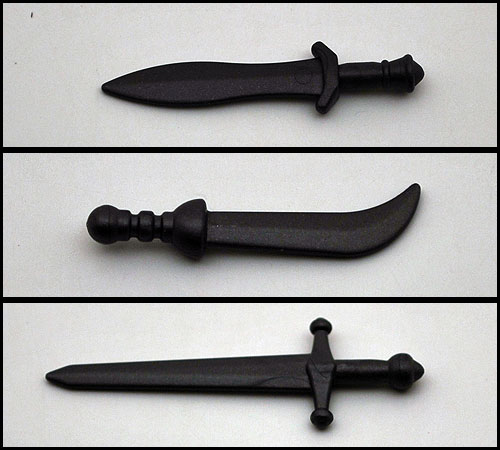 Special Weapons
The Cestus is basically a Roman version of brass knuckles, only with a bunch of spikes on them. Pretty cool, right? The trouble with the Cestus is that it's a really small item to begin with, and once you reduce it to minifig scale, it's tiny. But somehow BrickWarriors pulled it off. This little accessory is small, but instantly recognizable, and nasty-looking to boot.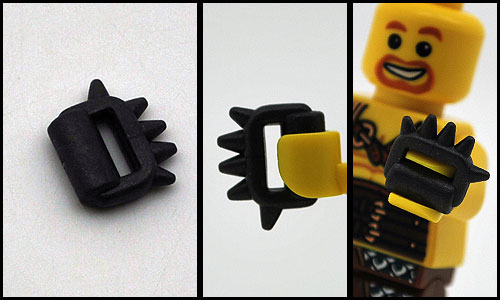 Final Thoughts
While Bricks of the Dead doesn't do a whole lot outside the modern era, I think these are some really cool items. I've always been fascinated with ancient weapons, and I think these are well realized and interesting. I also appreciate BrickWarriors' releasing a couple fairly weird items, like the pauldron and the cestus, both of which came out much better than I expected.
Check back next week for our review of the Modern items, including a pretty awesome time bomb. And make sure to check out BrickWarriors' website and BrickLink Store.