There's a lot of zombie stuff out there, and most of it is crap. People like to jump on bandwagons and produce quick tie-ins rather than investing love and effort into their creations. Luckily for you, I'm here to help separate the wheat from the chaff. Check back every Friday, when I'm going to share the coolest zombie-related creation I can find out there on the web.
This week's creation, "Zombie Warning (Too Late!)" by powerpig, is just incredible. It's a simple scene of a sizable mob of zombies taking down on unlucky pedestrian: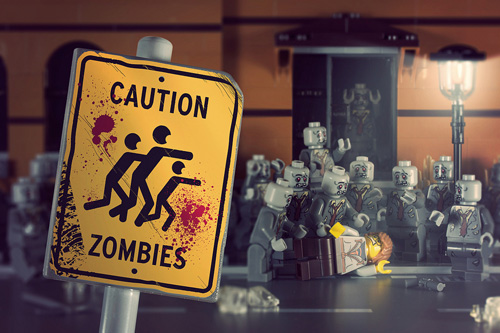 There's a lot to like here, starting with the excellent warning sign (available as a t-shirt) in the foreground, which somehow manages to draw your eye away from the violent attack in the background with nicely used focus and contrast.  Of course, the background scene is the real meat and potatoes here. A couple dozen collectible minifig zombies (which must have set this guy back a few bucks, yeesh) are mobbing around one unlucky fellow. On the ground is his pistol, which is presumably out of ammo. Behind them is a building that is both beautifully built but unassuming. I'm also quite fond of the lighting effect used on the street lamp.
One of the comments laments the lack of gore in this creation, but I really like that. The scene just wouldn't have worked as well with buckets of viscera.
Have you seen a great zombie-related creation out on the web? Are you working on the next great zombie MOC as we speak? Well you had better let us know right away, otherwise we'll never be able to include it here.
And don't forget: ZombieMutts and I are hosting a contest. You're basically building a zombie creation of some sort to try to win a custom zombie and a hazmat figure. Check out the full rules here.