There's a lot of zombie stuff out there, and most of it is crap. People like to jump on bandwagons and produce quick tie-ins rather than investing love and effort into their creations. Luckily for you, I'm here to help separate the wheat from the chaff. Check back every Friday, when I'm going to share the coolest zombie-related creation I can find out there on the web.
As promised, we're back to zombies today!
This week's creation, "Rush Hour" by smokebelch, is all about excellent framing, lighting and photography. Our intrepid commuter, Bob, is trying desperately to get home after a rough day at the office. Unfortunately for him he'll need to evade hungry packs of zombies the whole way.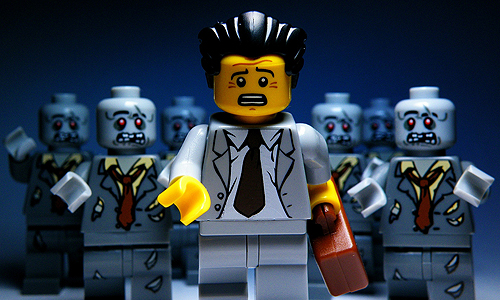 I like this shot a lot. The photography is great, and it's got a nice balance between horror and comedy, which is difficult to pull off. Also, it uses the zombies from LEGO®'s line of Collectible Minifigs, which I just love.
Have you seen a great zombie-related creation out on the web? Are you working on the next great zombie MOC as we speak? Well you had better let us know right away, otherwise we'll never be able to include it here.