There's a lot of zombie stuff out there, and most of it is crap. People like to jump on bandwagons and produce quick tie-ins rather than investing love and effort into their creations. Luckily for you, I'm here to help separate the wheat from the chaff. Check back every Friday, when I'm going to share the coolest zombie-related creation I can find out there on the web.
It's Halloween, which means – at least in my house – that it's time to bust out my DVD of the original Night of the Living Dead and see if Ben, Barbara and all their friends can manage to live through the zombie onslaught this year. Now they haven't had any luck for as long as Night of the Living Dead has been my de facto Halloween movie, but maybe this year will be different.
To celebrate my Halloween tradition, I found a zombie creation directly inspired by Night of the Living Dead, it's called "Barbara":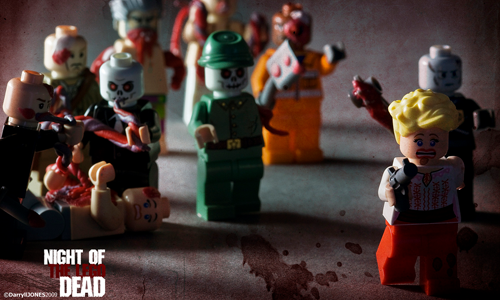 It's not much build-wise, but the photography and effects are suitably creepy. If you like "Barbara", check out all the other awesome stuff darrylljones has done.
And as a Halloween bonus, here's Night of the Living Dead in its entirety (don't worry about intellectual property, the film is in the public domain):
Have you seen a great zombie-related creation out on the web? Are you working on the next great zombie MOC as we speak? Well you had better let us know right away, otherwise we'll never be able to include it here.