There's a lot of zombie stuff out there, and most of it is crap. People like to jump on bandwagons and produce quick tie-ins rather than investing love and effort into their creations. Luckily for you, I'm here to help separate the wheat from the chaff. Check back every Friday, when I'm going to share the coolest zombie-related creation I can find out there on the web.
This week's post, "The Kids of the Zombie Apocalypse", comes to us from Jonathan Thomas of MOCpages. It features several children riding out the zombie uprising on top of a derelict post office. As usual, the detail work, staging, and general atmosphere of this piece are all great, but what really got me was the black and white photography. It's nothing major, but I think it really sets an appropriate tone. Judge for yourself: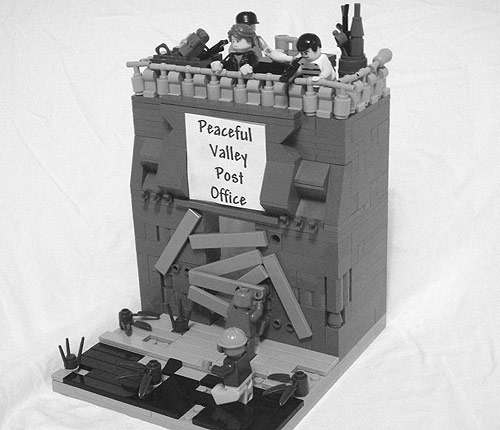 And here are our zombies, aimlessly milling about outside the barricaded entrance. They're fairly subdued in this piece, which I think compliments what the creator was going for.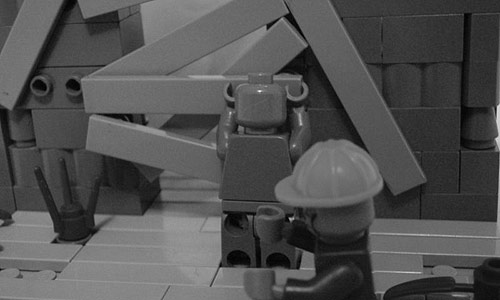 The children sit on the roof, secure, well armed, and with at least a few days' provisions to ride of the zombie storm.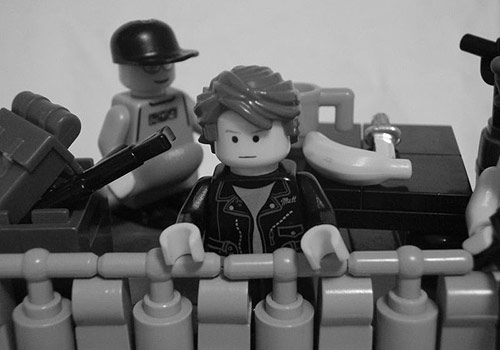 There are a few more great shots on this creation's page, but you should also check out the rest of Jonathan's profile while you're at it.
Have you seen a great zombie-related creation out on the web? Are you working on the next great zombie MOC as we speak? Well you had better let us know right away, otherwise we'll never be able to include it here.