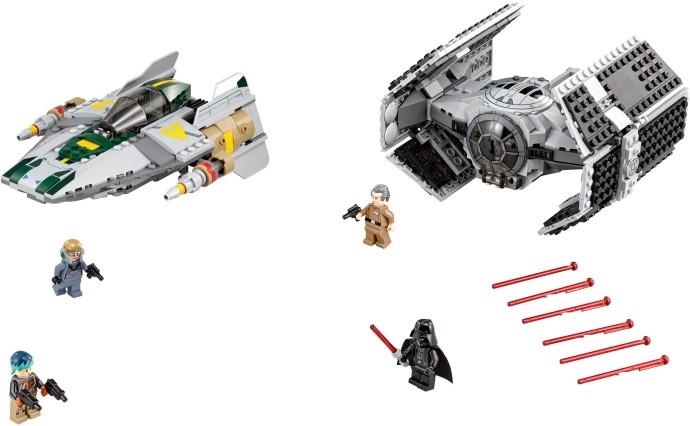 Vader's TIE Advanced vs. A-wing Starfighter: A Thrilling LEGO Set for Star Wars Fans
Get ready to experience an intense and exhilarating space battle from the Star Wars galaxy with the exciting LEGO set, "Vader's TIE Advanced vs. A-wing Starfighter." This action-packed set is perfect for fans of the iconic Star Wars Rebels animated TV series and offers a perfect age-appropriate building experience for kids aged 9 to 14. Designed by Niels M. Frederiksen, this set comprises 702 pieces, offering hours of thrilling build-and-play fun.
Iconic Spaceships Brought to Life in LEGO Form
This fantastic set includes two legendary starships reflecting attention to the smallest detail – the menacing TIE Advanced, piloted by the fearsome Lord Darth Vader himself, and the nimble rebel A-Wing Starfighter. The TIE Advanced boasts a unique top-and-front-opening cockpit with room for a minifigure and sports dual spring-loaded shooters. On the other hand, the A-Wing Starfighter showcases a distinct green-accented color scheme and has an opening cockpit with enough space for a minifigure, a storage box positioned behind the seat, retractable landing gear, turning wingtips, folding wings, and spring-loaded shooters that are activated by pulling back on the cockpit.
Four Iconic Minifigures for Immersive Play
The "Vader's TIE Advanced vs. A-wing Starfighter" set would not be complete without its four iconic minifigures: Darth Vader, an A-Wing Pilot, Sabine Wren, and Grand Moff Tarkin. These characters are vital to recreate those epic Star Wars battles. Additionally, weapons included in this set are Darth Vader's iconic Lightsaber and four blasters. To add another layer of authenticity, accessory elements include Darth Vader's instantly recognizable helmet and the A-Wing Pilot's helmet.
Set Specifications
The set, released in 2016, weighs approximately 1.12 kg (2.47 lb) and comes with dimensions of 54 x 28.2 x 7.8 cm (21.3 x 11.1 x 3.1 in). At a retail price of £79.99 / $89.99 / €99.99, the price per piece is quite reasonable at 11.4p / 12.8c / 14.2c.
Embark on an Unforgettable Star Wars Adventure
The "Vader's TIE Advanced vs. A-wing Starfighter" LEGO set, brought to you from the Star Wars Rebels universe, guarantees hours of immersive build-and-play fun for fans young and old alike. This exciting set is perfect for adding to your collection or as a gift for that special Star Wars fan in your life!