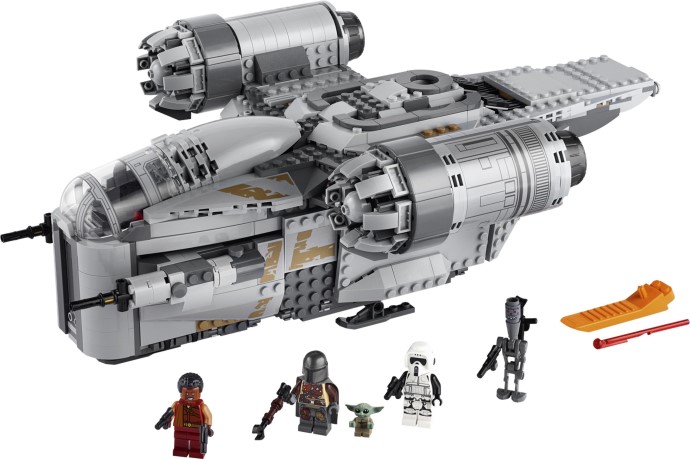 Experience Intergalactic Adventures with The Razor Crest LEGO Set
Fans of the highly-acclaimed Star Wars: The Mandalorian series can now set sail on a new adventure with The Razor Crest (75292). This one-of-a-kind LEGO® Star Wars™ set brings the thrilling battles between the heroic Mandalorian and his formidable foes to life, allowing kids and collectors alike to experience the excitement of the popular TV series in brick form.
Build Your Very Own Razor Crest Spacecraft
Featuring a total of 1,023 unique pieces, this building block extravaganza challenges builders aged 10 and up. From its authentic armored transport shuttle design to its cargo hold with opening sides that double as access ramps, this set has it all. With a dual minifigure cockpit, spring-loaded shooters, an escape pod, and various other realistic details, this set offers endless building possibilities for young fans and adult enthusiasts alike.
Renowned Characters from The Mandalorian
Beyond its impressive construction, The Razor Crest set includes five collectible LEGO Star Wars characters that only enhance the overall building experience. Complete with never-before-seen minifigures such as The Mandalorian himself, as well as the adorable Child (otherwise known as "Baby Yoda"), Greef Karga, Scout Trooper, and an IG-11 figure – you'll have a plethora of options to choose from when role-playing your favorite scenes or creating entirely new storylines within your LEGO galaxy.
A Superb Gift Idea for Star Wars Fans
Since 1999, the LEGO Group has been capturing the imagination of fans by recreating classic starships, characters, locations, and vehicles from the legendary Star Wars universe. As part of this ongoing legacy, The Razor Crest is an excellent gift choice for all ages, combining unparalleled excitement with exceptional value at £119.99 / $139.99 / 139.99€.
LEGO and Star Wars: A Match Made in a Galaxy Far, Far Away
There's no better way to inspire young minds and fuel creative play than with LEGO Star Wars building toys. With The Razor Crest set's high-quality design and functionality, fans can embark on brave missions to transport precious cargo across the galaxy or engage in epic battles against opposing forces. And with no batteries required, there's no limit to the imaginative tales that can be told.
So if you're eager for a new building challenge or to relive some of your favorite moments from The Mandalorian, look no further than LEGO Star Wars: The Razor Crest (75292). Add it to your collection or gift it to a fellow fan – this is one voyage through space that shouldn't be missed!