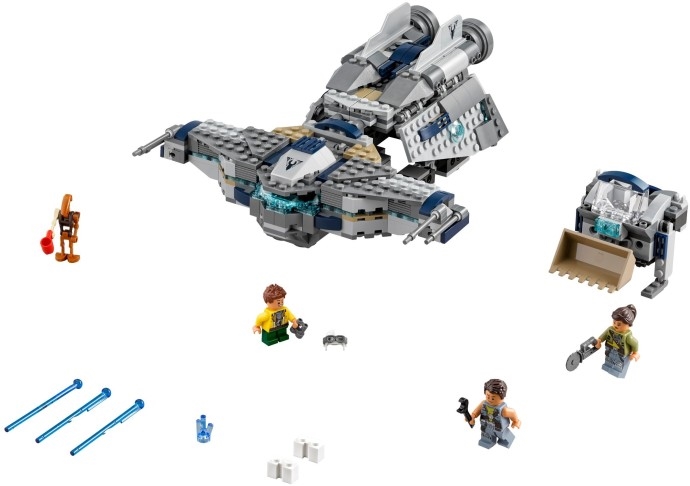 StarScavenger: The Ultimate LEGO Star Wars Set for Kids
Are you ready to join the Freemakers on their galactic adventures? Look no further than StarScavenger, the ultimate LEGO Star Wars set for kids. With its modular wings, engines and blasters, this set is perfect for those who love to build and modify their toys, while also providing an immersive Star Wars experience. Read on to learn more about this unique set.
Explore the Universe with the Freemakers
StarScavenger is inspired by the hit LEGO Star Wars: The Freemaker Adventures TV show, which follows the adventures of siblings Rowan, Kordi and Zander as they travel through the far reaches of space in search of valuable space junk. With this set, kids can build their own version of the Freemakers' starship and join them on their quest.
A Customizable Set with Many Possibilities
One of the most exciting features of StarScavenger is its modular design. The wings, engines and blasters all snap on and off easily, allowing kids to create their own custom designs based on whatever inspires them. They can construct the starship in many different configurations before deciding on their favorite set up. Plus, there's a mini scavenger vessel that can be rolled out complete with a salvage scoop and space for a mini figure and R0-GR (Roger), the friendly droid companion to the Freemakers.
Build Your Favorite Characters from The Freemaker Adventures
The set comes with 3 minifigures including Rowan, Kordi, Zander and R0-GR that allows you to feel like part of the crew as you fly into outer space. These highly detailed LEGO figures are representative of their on-screen counterparts, and even have unique customization options. Kids can mix and match the figures' weapons and accessories to create a spin-off adventure that's all their own.
Dream it, Build it
StarScavenger provides endless building opportunities for imaginative play. It doesn't matter whether you're building the ship for an epic battle or just sort of leisure exploration. Either way, little engineers can play to their heart's content with a virtually unlimited number of configurations.
In Schools or at Home, There's Fun for Everyone
The set is recommended for children ages 8-14 while the LEGO pieces allow builders of all ages to let their creativity take flight. Offering an enjoyable way to build something and destressing during down-time, this fantastic LEGO Star Wars toy is equally great as a birthday gift, Christmas present, Thanksgiving surprise or just any reason you can think of. The fun never ends when you're scavenging the galaxy.