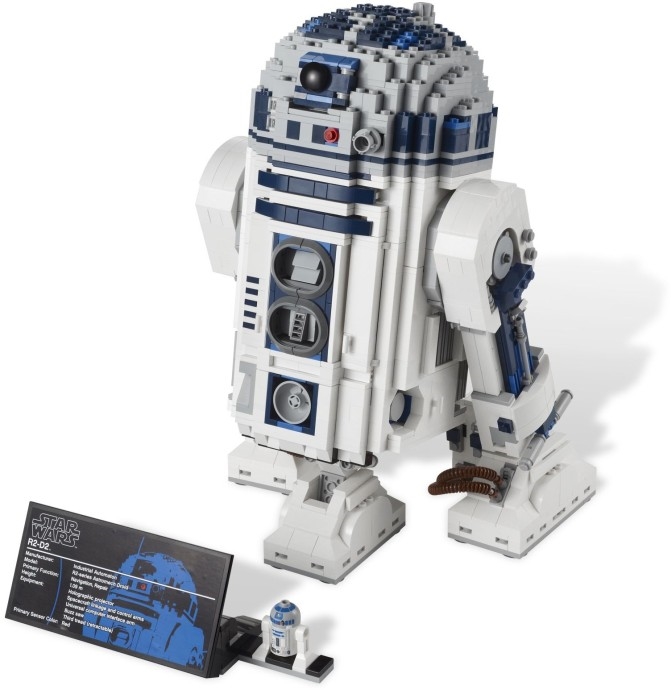 Discover the Ultimate R2-D2 LEGO Set
If you're a Star Wars fan and a LEGO enthusiast, then look no further than the Ultimate Collector Series R2-D2 (SET_NUMBER: 10225). This incredibly detailed and iconic representation of everyone's favorite droid was released in May 2012. This set is perfect for dedicated collectors and passionate builders aged 16 and above.
Travel to a Galaxy Far, Far Away
This extraordinary LEGO Star Wars R2-D2 model is part of the highly sought-after Ultimate Collector Series that has brought fans some of the most exceptional models from their beloved film franchise. Released in 2012 under theme Star Wars and subtheme Ultimate Collector Series, you can now recreate your favorite moments from the galaxy far, far away. With 2127 pieces, this intricate model will not only challenge your building skills but also prove to be an unforgettable experience.
Breathtaking Details and Functions
The sheer attention to detail in this LEGO set is nothing short of astonishing. The model that measures 37.8 x 58.2 x 10.3 cm (14.9 x 22.9 x 4.1in) mimics R2-D2's characteristic appearance from the movies, with its beautiful blue and white panels and unmistakable dome-shaped head that rotates to give it an added touch of realism. Moreover, the retractable third leg makes R2-D2 stand upright or transition into a two-legged stance just like in the films.
To further add to its charm, this set features functional front panels that open up to reveal a universal computer interface arm and a circular saw, making it appear as though R2-D2 has come to life right before your eyes. Additionally, there are two fold-out front spacecraft linkage control arms to make this droid's functionality all the more authentic.
A Must-Have for Collectors
For those who adore displaying their LEGO accomplishments, the R2-D2 set includes a fact plaque and an R2-D2 minifigure to accompany your grand model. This makes your creation the perfect addition to your Star Wars collection and showcases your dedication as a builder and fan.
Meticulously Designed with Value in Mind
This stunning LEGO creation offers impressive value with a price per piece of 7.1p / 8.5c and retailed for £149.99 / $179.99 during its release. The sheer quality in design and the abundance of intricate features justifies the initial investment and stands as a testament to LEGO's commitment to creating sets that cater to their most loyal fans.
A Timeless Piece for Star Wars Fans
The Ultimate Collector Series R2-D2 is truly a remarkable representation of one of the most beloved characters in the Star Wars universe. This stunning LEGO set not only challenges your building skills but also serves as an exceptional piece of film history that you can proudly display among your treasured collection. Don't miss the chance to be part of this unique building experience – build your own iconic R2-D2 today!
Product Specs
Product Specs
Product Name:
R2-D2
Pieces
2127
RRP
£149.99 / $179.99
Release Year
2012
Theme
Star Wars
Instructions
Lego R2-D2 Instructions