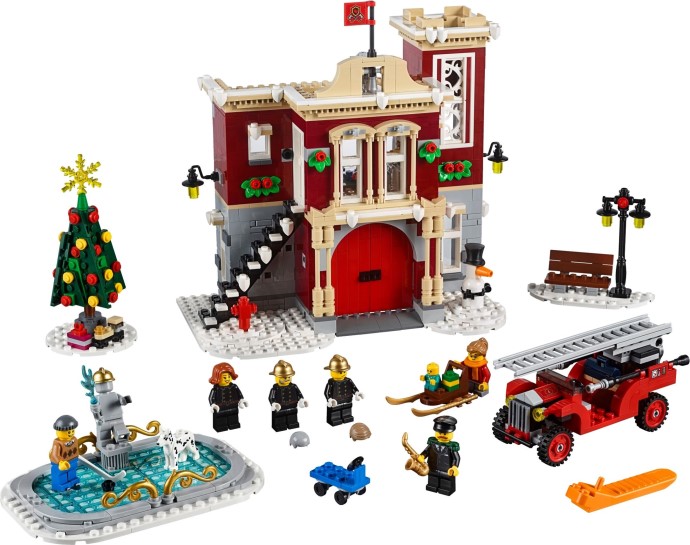 Rediscover the Magic of the Holidays with LEGO's Winter Village Fire Station
In 2018, LEGO gifted us with a unique, richly-decorated addition to its Creator Expert series: the Winter Village Fire Station (Set Number: 10263). Putting a distinctive spin on their usual line of models, this set taps into the delightful splendour of the holiday season by taking us into an enchantingly serene landscape populated by humble firefighters guarding their idyllic winter haven.
The Heartwarming Structure of the Holiday Edifice
Comprising a comprehensive 1,166 pieces, this fantasy fire station is immaculately cloaked in seasonal allure; every brick leading towards a façade graced with decorative columns, ornate windows, and large red garage doors adorned with holly. With an intricate design that beckons builders age 12 and above, this set offers countless hours of immersive construction experience. At completion, your quixotic structure will stand at around 9" (23cm) high, 9" (25cm) wide and 5" (14cm) deep.
A Snow-Covered Revelation Behind The Red Doors
On entering this festive bastion via the grandiose doors, you'll be greeted with an array of firefighting equipment skilfully positioned around a classic fire pole. Ascend to the upper level to discover an adorable domestic scene: a quaint kitchen replete with a red telephone and ye olde coffee maker adjacent to a cosy dining table. A dog bed suggests playful canine cuteness – hope you're not allergic!
Enchanting Extras Enhance The Festive Flair
Your winter wonderland extends beyond the fire station's icy walls. An ice rink echoing with laughter, a decorated Christmas tree glittering under starlight, and gifts awaiting eager recipients transform your surroundings into a hub of holiday merriment. Not to forget our stationed firefighters' noble steed – a red fire truck outfitted with a turntable ladder and deep-tread tires is also included in this elaborate set.
The Firefighter Family Fun At The Station
Accompanying your endearing building project are eight minifigs, filled to brim with personality. Meet three dedicated firefighters biding their time till duty calls; an ice-hockey player perfecting their game; a warming musician whose sax notes weave through the crisp cold air; and an innocent scarf-clad girl spreading holiday joy. The Dalmatian figure keeps them all company on long winter nights along with an irresistibly cute baby wearing an equally adorable moose sweater!
A Delectable Dose of LEGO Innovation
The Winter Village Fire Station set doesn't shy away from introducing innovative elements either. Builders will adore exploring special editions such as the New-for-October-2018 decorative elements featuring a classic firefighter uniform and appealing baby sweater or newer entries like the 1×2 rounded plate or 2×2 plate with reduced knobs. Plus, LEGO fans across generations will absolutely love the LEGO Light Brick illuminating the captivating scene magically!
Fusing festive fun with the traditionally thrilling theme of firefighting, LEGO's Winter Village Fire Station proves itself as more than just another building set. Its charm lies in weaving a story encapsulated within its bricks, rendering mere observers as participants in its intrinsic holiday magic.