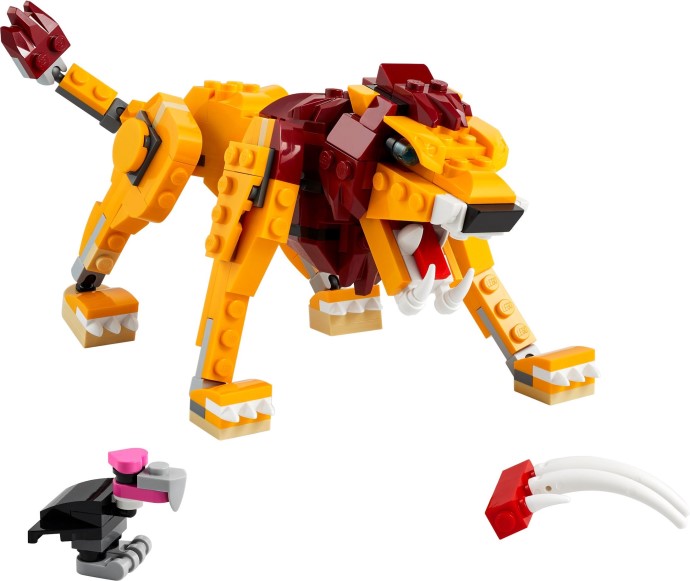 Unleash Your Creativity with LEGO Creator's Wild Lion Set
LEGO has been a staple for toy lovers of all ages for over six decades now. Maintaining its untarnished reputation for producing high-quality building toys, the brand has continued to impress with its latest release: the LEGO Creator 3in1 Wild Lion set (31112). Crafted by renowned designer Jonathan Robson, this set sparks creativity and fulfills every young explorer's safari fantasy.
A Taste of African Wildlife
The LEGO Creator 3in1 Wild Lion set is an outstanding addition to any LEGO collection as it brings the African savanna right into your living room. Consisting of a majestic and fully posable lion model, complete with a moveable tail, legs, jaw and head, this set will make you feel as if you're on a real-life safari! It also comes equipped with a vulture and a rack of ribs, which add another layer of authenticity to your recreations of animal adventures.
Three Sets in One
Staying true to the essence of the 3in1 subtheme, this fantastic set lets your creativity run wild by allowing you to build three different animal toys using just one set of bricks. After exploring with the wild lion, why not turn it into a swift ostrich and recreate wild races in the outback? Or maybe transform it into a tough warthog for some marshland adventures? And let's not forget the vulture that brings an extra touch of wilderness to each model!
A Gift That Continues Giving
The magic behind the LEGO Creator 3in1 sets is that they facilitate endless imaginative exploration through their capability to deliver three different models within each pack. With every model easy to dismantle and rebuild into something new, this Wild Lion Set is sure to offer exhilarating experiences as children craft tale after tale in their make-believe universe. Moreover, this 224-piece puzzle makes a fun yet challenging experience for children aged seven years old and above. It's all about instilling confidence while stirring creativity as kids see their ideas come to life.
Compact and Portable Adventures
This LEGO set is thoughtfully scaled at just over 4 inches high (12 cm), making it ideal for at-home play or on-the-go adventures. Its perfect size allows kids to bring their favourite models wherever they go – whether it's a trip to Grandma's house or a day at school.
Strict Safety Standards
Safety has always been paramount at LEGO; each building brick adheres to stringent global safety norms ensuring they are safe for kids. No need to worry about those little fingers anymore – these bricks have been designed to match smaller hands' dexterity while ensuring consistent connectivity due to their high-quality materials used upon manufacture.
Savour the Joy of Building
The LEGO Wild Lion Set adds more than just another animal model collection; it allows kids and even adults alike to explore and venture on an unseen adventure road down the African savanna while fostering creativity and imagination-the cornerstone of every LEGO creation.
Product Specs
Product Specs
Product Name:
Wild Lion
Pieces
224
RRP
£12.99 / $14.99 / 14.99€
Release Year
2021
Theme
Creator
Instructions
Lego Wild Lion Instructions