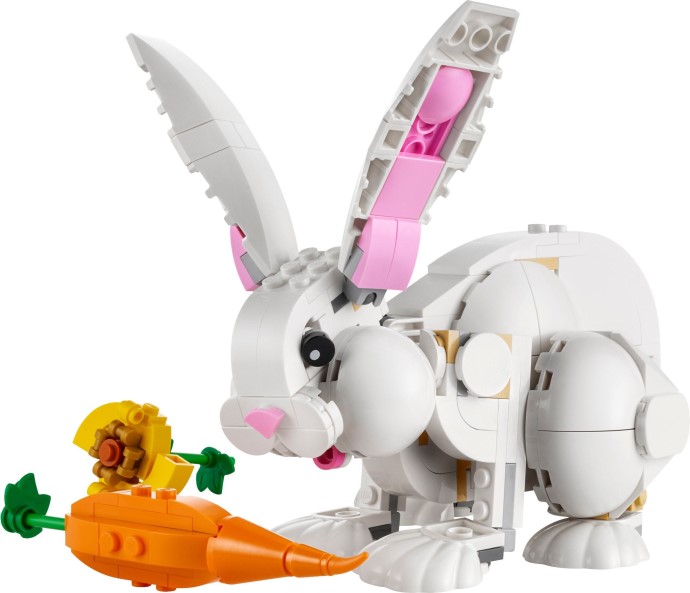 Introducing the LEGO Creator White Rabbit Set
The LEGO Creator range has announced an exciting new addition: the ingenious 3-in-1 White Rabbit set, number 31133. This whimsical kit, designed by Marin Stipkovic and consisting of 258 well-crafted pieces, offers immense fun and an engaging building experience for children aged 8 and above. With an affordable price point of £17.99 / $19.99 / 19.99€ and a launch date set for the 1st of January, 2023, this delightful new offering is sure to captivate its young audience.
Three Toys in One
At the heart of this creative endeavor is the alluring concept of 3-in-1 play. Young minds will take great pleasure in engineering a charmingly posable White Rabbit character that can easily be switched out for two other endearing animals: a vibrant cockatoo parrot or a playful white seal. This magical triptych playset exemplifies LEGO's ingenuity, creating countless opportunities for fictional narratives and immersive gameplay.
Nurturing Creativity and Imagination
The White Rabbit set encapsulates LEGO's vision for fostering creativity and imagination among children. Each animal can be built from the same collection of pieces but offers distinct play possibilities as it explores different habitats—from forest frolics with the bunny to soaring above tree canopies with the parrot or swimming alongside the seal in imagined oceans.
Interactive Digital Building Experience
This fantastic set facilitates an engaging digital experience through the LEGO Builder app, adding another dimension to its allure. By enabling real-time model visualization on their digital devices as they construct, your budding architects can enjoy a rewarding sense of accomplishment. It's much more than just 'building'—it's bringing their imagination to life on screen!
Why Choose the White Rabbit Set
The allure of the White Rabbit set goes beyond its triple creature feature. The portable size of these toy models, each standing at about 5.5 inches high, makes them perfect companions for travel or away-from-home adventures. Moreover, these models come alive with their accessories: a delicious looking carrot or flower for the rabbit; seeds for our feathered friend; and a fish for our smooth-swimming pinniped.
A Legacy That Speaks Volumes
For over six decades, LEGO bricks have fueled imagination, ensuring consistent connection between pieces while adhering to global safety standards. In line with this enduring legacy, the sturdy yet lightweight White Rabbit Set weighs only 0.41 kg (0.91 lbs) despite its versatile elements—keeping your child engaged while ensuring their safety.
In summary, if you're in search of a gift that will ignite young minds while encouraging them to think outside-the-box (literally!), look no further than LEGO's exciting new Creator 3in1: the mesmeric White Rabbit set!