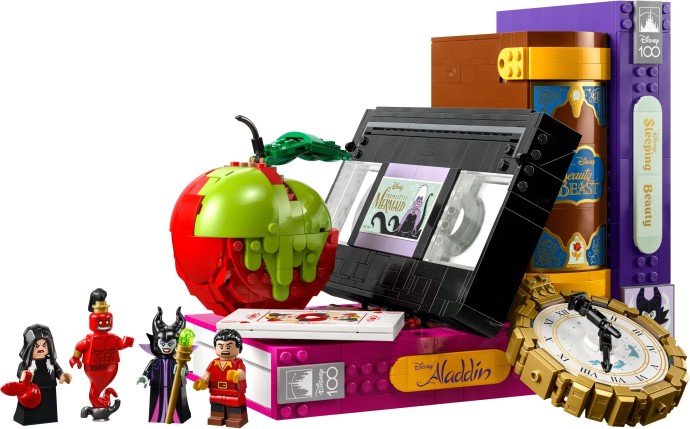 Rediscover Classic Disney Memories with the Villain Icons LEGO® Set
For lovers of all things Disney, you'll be thrilled to dive into a world of nostalgic delight with the LEGO® ǀ Disney Villain Icons (43227) set. This exquisitely crafted collection, designed exclusively for adults, invites you to journey back in time, fanning the embers of your favourite childhood memories on screen.
Engage your creative wizardry piecing together iconic symbols deeply woven into Disney's enchanting tales. You'll relish the challenge of constructing two life-like VHS cases inspired by Aladdin and Sleeping Beauty, a classic VHS 'tape' from The Little Mermaid, a storybook echoing Beauty and the Beast, and Captain Hook's pocket watch from Peter Pan. You'll also get to unleash your inner architect crafting Snow White's deathly apple and Alice in Wonderland's Queen of Hearts playing card.
A Collector's Dream: Perfectly Portrayed Disney Antagonists
Enamoured with classic Disney villains? You're in for a treat. This LEGO set pays homage to several villainous characters that have left indelible marks in the annals of Disney's universe.
Prepare to be fascinated by meticulous miniatures adorned with iconic villain costumes dating back decades. Proudly display Maleficent from Sleeping Beauty, Snow White's Evil Queen in disguise, Beauty and the Beast's Gaston, and Jafar Genie from Aladdin on your shelf or desk.
Ignite Your Imagination
The LEGO® ǀ Disney Villain Icons set isn't merely about assembly; it's an interactive celebration of cinema history intertwined with a test of skill. This treasure trove sandwiched between 1,540 pieces compels you to explore each detail, fuelling creative juices as you breathe life into these timeless relics, creating an impressive showpiece straight out of your favourite animation classics.
Handy Building Tools
Beyond the physical bricks that form this captivating set, you'll be armed with digital building instructions via the LEGO® Builder app to guide your building journey. Also included is an illustrated booklet packed with nuggets of information about each set element and detailed assembly instructions for a seamless building experience. Predominantly designed for adults aged 18 and above, this LEGO set offers not just a glimpse into past treasures but a refreshing avenue to unleash pent-up creativity.
A Testament to Unwavering Quality
Dating back to 1958, LEGO® has consistently maintained its reputation for unmatched quality across its line of products. Each component is rigorously tested for durability and safety before hitting shelfs. Each piece easily connects into others while still maintaining strict global safety standards. Rest assured every step taken during your construction journey is backed by precision engineering geared towards uncompromised quality.
This unique offering delivers not just a reverie of movie magic but a tangible piece of nostalgia waiting to find its space on your shelf or desktop ceremony. Treat yourself or gift it to a fellow Disney fan – the Villain Icons set is sure to add an intriguing note to any collection.