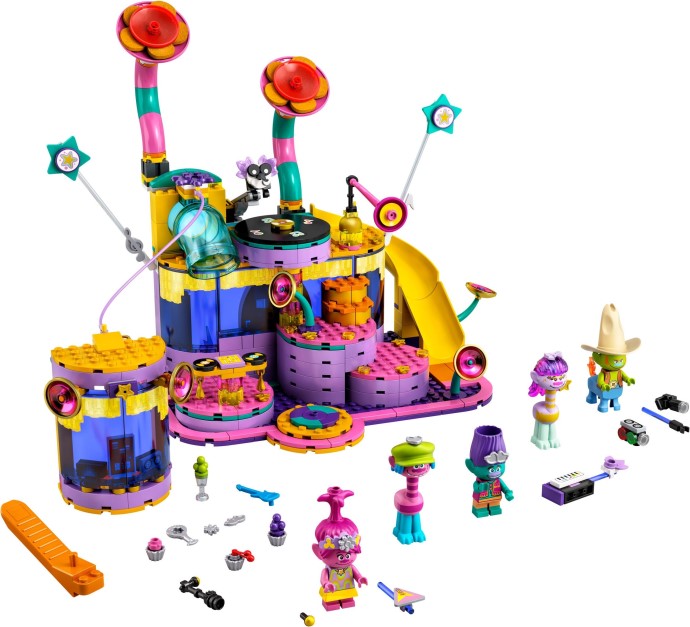 Explore the Vibrant Music Scene with the LEGO® Vibe City Concert Set
The LEGO® Trolls World Tour Vibe City Concert set (41258), released in August 2020, is designed to take young children on an enthralling journey through the charming world of music. The heart of the set – a brightly coloured concert scene inspired by the popular Trolls World Tour movie franchise, and packed with numerous interactive features and music-related accessories.
Honouring The Music and Magic with LEGO®
This fascinating LEGO® set underscores the musical spirit of the Trolls universe and nurtures kids' imaginative role-play skills. It offers a montage of recognizable instruments – a keyboard and two types of guitars, along with a tuba and a trumpet. But that's not all, there's also a state-of-the-art DJ booth and microphones for those aspiring little announcers or DJs, as well as elements that mimic real-life studios like a recording room.
A Realistic Brush with Movie Madness
No stone has been left unturned in replicating the authentic excitement of the Trolls World Tour movie universe to captivate young fans. With five instantly recognisable minifigures included in the set, entering this magical world alongside their favourite characters becomes straightforward. Imaginative scenarios can be modelled easily; kids can slide their new Troll friends down an animated slide, arrange them on moving platforms, or engage in numerous other activities.
Unleashing Creativity with LEGO®
The Vibe City Concert set engenders fun interactions with various distinctive elements. An endearing speaker made from felt, mesmerising moving stars and glittery details combine to make this creative haven for children. This elaborate playset is perfect for kids aged 6 and over to fine-tune their constructive skills while interacting with their imaginative side during play. To add that extra sparkle, an exclusive collectible string from Trolls World Tour movie enriches this exciting musical journey.
The Power of Digital Instructions Plus
With the inclusion of digital Instructions PLUS in the free LEGO® Building Instructions app, this set eases young builders into independent construction efforts. It encourages them to explore creative construction techniques while enhancing their technological abilities. As no batteries are needed for this stimulating toy set, it paves the way for uninterrupted creative sessions leading to endless fun.
Assured Quality Playtime with LEGO®
LEGO®, since 1958 as in today's context, has maintained high industry standards ensuring its components are compatible and connect seamlessly every time. All bricks undergo rigorous testing such as dropping, squashing, twisting and more to align with globally accepted safety standards. The resultant durable toys ensure quality hours of family playtime – safe, sound and remarkably engaging!
In conclusion, this 494-piece LEGO® Trolls World Tour Vibe City Concert is more than just a colourful building toy—it's an adventurous ride filled with music and imagination!