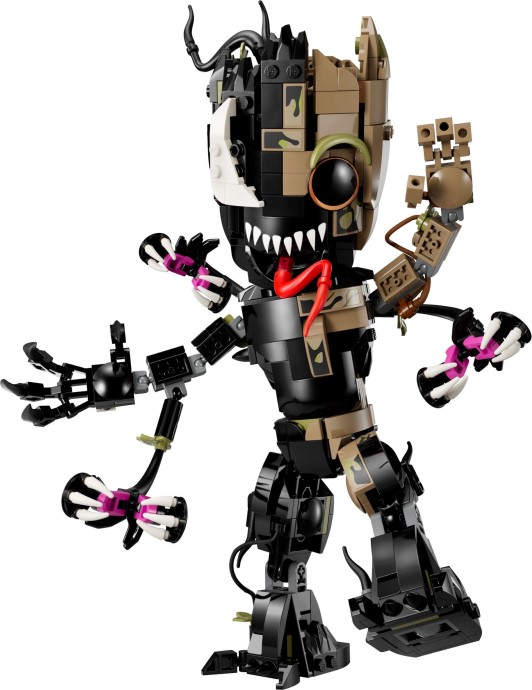 Unleash the Power with LEGO® 'Venomized Groot' Model
Prepare to immerse yourself in a world where superheroes meet alien creatures. The wrath of their unholy union spawns none other than the LEGO® Venomized Groot set (76249). It is more than a mere toy, it is an interactive portal to the Marvel universe for fans as young as 10.
Merging Giants: Baby Groot and Venom
Fascinatingly, this unique model combines the irresistible cuteness of Baby Groot and the intimidating awe of Venom. Kids embark on a journey of constructing an impressively detailed model of Venomized Groot. The figure is not static; it is dynamically poseable, decked with movable limbs and head. This engaging feature allows kids to indulge in fascinating adventures with their venom-taken Groot.
The Metamorphosis: From Baby Groot to fully Venomized Creature
What makes this LEGO set stand out from others is the gradual transformation that we can observe brick by brick. While kids play, they can add more pieces to see how the sweet Baby Groot changes into a disturbingly exciting Venom creature. This brilliant metamorphosis showcases Venom's signature creepy tongue, sharp teeth, unnerving tentacles and distinctively large pair of white eyes.
A Modern Twist: The Digital Fun
As if building such an attractive piece wasn't enjoyable enough, LEGO® adds an extra level of digital fun! Builders can use the LEGO® Builder app, which is designed to make building a breezy experience. They can review their models in 3D, zoom in on details or rotate them for ideal angles. Moreover, the app also serves as a progress tracker keeping you updated on your building journey.
Designed for Display and Imaginative Play
The articulable Venomized Groot ends up standing over 11 inches tall (roughly 27 cm). This perfect size makes the figure not just eye-catching enough for display but also practical for packing up and taking along on travels. So, prepare to unleash your imagination and create fantastical storylines involving your own version of Venomized Groot, wherever your kid happens to be.
Potent Mix: LEGO® Design with Marvel Adventures
The Venomized Groot LEGO set promises rich imaginative experiences ripe with endless fun prospects. Nothing underlines this better than coupling it with another related product – LEGO® Marvel I am Groot Model (76217). Together they unlock the full scope of Groot's transition to being totally venomed!
Safety and Quality: Assured!
Keeping true to its commitment to quality and safety, every brick provided in this LEGO® set meets rigorous world-class safety standards. Each piece has been thoroughly tested with extreme conditions like heating or even crushing amongst other unfathomable manoeuvres! Hence, every parent can rest easy knowing their kids are playing safe while they build their dreams brick by brick.