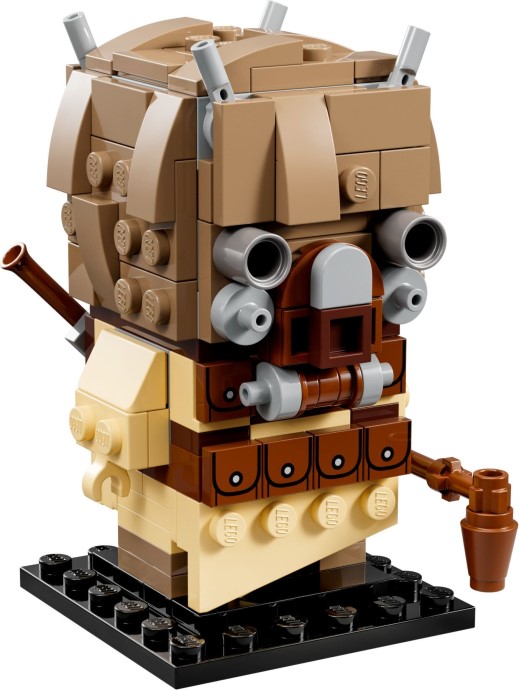 Introducing the LEGO Tusken Raider BrickHeadz Set
LEGO enthusiasts and Star Wars fans alike, prepare to be enthralled by the introduction of an all-new BrickHeadz set – The Tusken Raider (40615). This blocky rendition of the iconic Star Wars character is part of the acclaimed BrickHeadz collection, under the Star Wars subtheme. With its detailed design and authentic features, it will surely captivate builders and collectors of all ages.
A Remarkable Build for Any Star Wars Fan
Dive into the astounding world of Tatooine as you recreate a legendary Tusken Raider from the epic Star Wars: A New Hope. Equipped with a gaffi stick and blaster, this distinctive character boasts genuine attire that is meticulously crafted to impress even the most discerning fan. The Tusken Raider set offers 152 pieces aimed at builders aged 10 and up, making it an ideal gift for Jedi aficionados or anyone enamored with the expansive Star Wars universe.
Price and Availability
The LEGO Tusken Raider BrickHeadz (40615) is set to launch on January 1st, 2023, with pricing at an affordable £9.99 / $9.99 / 9.99€. At only 6.6 pence/cents per piece, this captivating collectible would make an excellent addition to your BrickHeadz lineup without breaking the bank.
Display Your Passion for Star Wars
Set atop a sleek display baseplate, this brick-built Tusken Raider measures 3.6 x 4.8 x 3.1 inches (9.1 x 12.2 x 7.8 cm). It's sure to be a showstopper in any collection, fitting seamlessly alongside other Star Wars-inspired construction toys. Showcase your Tusken Raider with pride, knowing that you've built a faithful representation of one of the fiercest creatures in the galaxy.
A Gift That's Out of this World
The Tusken Raider BrickHeadz set (40615) is more than just an enjoyable build – it's an experience to cherish as you immerse yourself in the thrilling tales of Star Wars. Complete with step-by-step instructions, this 152-piece collectible makes for a great birthday present, holiday gift, or surprise treat for fans and collectors alike. Delight your loved ones with an intergalactic journey they won't soon forget by gifting them this phenomenal LEGO Star Wars character.
In Conclusion
The LEGO Tusken Raider BrickHeadz (40615) is an enthralling addition to any Star Wars and LEGO fan's collection. Its authentic design and intriguing backstory will provide hours of fun and entertainment while capturing the spirit of the beloved film saga. Don't miss your chance to embark on this exciting adventure, and be sure to act fast when it becomes available in 2023. May the Force be with you!