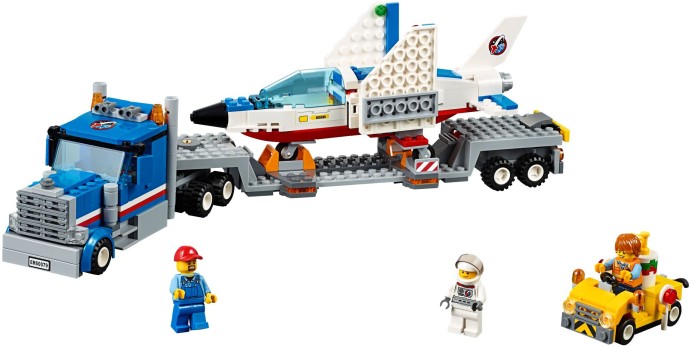 An In-Depth Look at the Training Jet Transporter
Your imagination will take flight with the LEGO City Space Training Jet Transporter, SET_NUMBER: 60079. Released in June 2015, this impressive set transports LEGO fans to the exhilarating world of aerospace exploration.
Take Off with Futuristic Design
This state-of-the-art transporter delivers an exciting mix of functionality and aesthetics. Its robust structure elegantly incorporates a detachable trailer, a service car, and a high-speed training jet. The jet reveals foldable wings and a tinted cockpit that opens up to invite young explorers aboard. This ensemble isn't merely a model but a promise of space missions that will push boundaries.
Iconic Minifigures and Accessories
Embarking on this thrilling journey are three meticulously detailed minifigures: a service person, a driver, and a fervent pilot ready to conquer the skies. Adding an extra layer of realism, the set includes a fuel tank, two marshaling wands for seamless guidance, and a wrench to aid you in setting things up.
Awe-Inspiring Dimensions
Giving life to your lofty dreams of space exploration, the transporter measures over 15 inches in length when it's holding the trailer in place. Upon removal of the trailer that spans over 10 inches long, we are left with an equally majestic standalone transporter. The jet itself boasts dimensions of 8 inches in height, 8 inches in length and 6 inches in width – truly an imposing spectacle! Finally, assisting in various ground services is a compact car precisely sized for its role.
Challenge Accepted: Age Range & Complexity
The set targets an age range between five to twelve years. With an intricate design consisting of 448 pieces, it's an enticing challenge that will engage both beginners and seasoned builders alike. The price point also ensures excellent value for money giving young builders lifelong skills and memories.
Experience Life on Space's Fast Lane
In essence, the Training Jet Transporter is more than just an assembly of 448 pieces; it's an immersive portal into the space domain. Letting you practice landings and aerial maneuvers, it fuels your space shuttle piloting dreams while grounded safely on earth. Over its life span from June 2015 until retirement in December 2016 – The Training Jet Transporter has ignited countless imaginations – shooting them right into the stars.