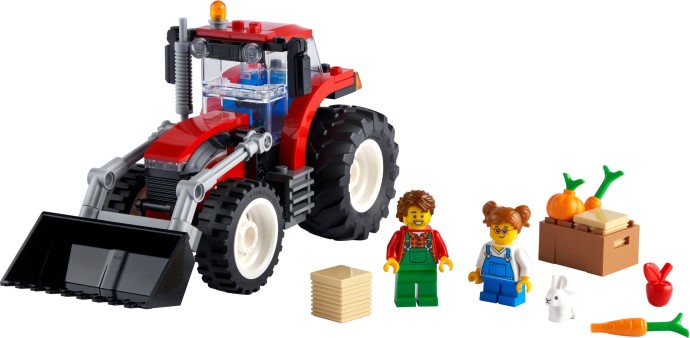 Leap into Fun with LEGO City's Tractor Set
The Tractor (60287) set, released in 2021, is a recently launched addition to the LEGO City Great Vehicles series. This impressive set encapsulates the imaginative and creative spirit that LEGO toys are known for, providing the perfect platform for your child to bring their farm fantasies to life.
Let Your Child Interact with the Rural Farm Life
Your child will be immersed in a world of farming as they construct and play with the LEGO City Tractor set. Echoing the authentic designs of real-world farming tractors, this toy model features gigantic rear tires along with a tilting front loader and an adjustable boom. The fun doesn't stop there – it also comes with farmer and daughter minifigures, igniting endless interesting narratives for your kid to explore.
Model Specifications and Included Features
The tractor model measures over 4 inches high, 6.5 inches long and 2.5 inches wide – trimmed down to a comfortably manageable size for little hands. It contains an accessible minifigure cab where your child can place the farmer and his daughter to take control of the heavy-duty farming tasks ahead.
With the set comprising a total of 148 pieces, including accessory elements like a crate filled with vibrant veggies including a pumpkin, apple, carrots, and two hay bales, the construction journey may just be as fun as the dynamically realistic play that ensues later! The rabbit figure adds yet another layer of intrigue and realism to this engaging farm scene.
A Building Guide at Their Fingertips
A physical instruction manual is included within every box for those who prefer conventional paper guides. However, for those living in this digital age, LEGO also provides an interactive building guide on its Building Instructions app that you can download on any smart device. This allows your children to view details from various angles using zoom and rotate tools which aids in their understanding of the structure's intricate assembly.
Inspiring Creativity in Every Box
The Tractor (60287) set was expertly crafted by renowned designer Robert Heim to inspire creativity while also being educational. With its immersive build-and-play experience, children can develop valuable physical skills and grow confidence through undertaking imaginative role-plays. Moreover, priced reasonably at just £17.99/$19.99/19.99€ this wonderful gift could light up any occasion – be it Christmas, a birthday or simply just an 'any day' celebration!
Safe, Compatible and Consistent – The LEGO Promise
Safety is paramount when it comes to kids' toys and LEGO never compromises on this aspect! All components in each set are thoroughly tested – dropped, heated, crushed, twisted and analyzed to meet stringent global safety standards so you can have complete peace of mind.
The real value behind every LEGO creation stems from its impeccable consistency and compatibility throughout its entire history dating back to 1958! Each piece fits seamlessly together providing countless hours of fun and imaginative play that stretches beyond just constructing it!
The wonderful world of farm life awaits your child– why not introduce them to it using this fantastic Tractor (60287) set from LEGO City!
Product Specs
Product Specs
Product Name:
Tractor
Pieces
148
RRP
£17.99 / $19.99 / 19.99€
Release Year
2021
Theme
City
Instructions
Lego Tractor Instructions