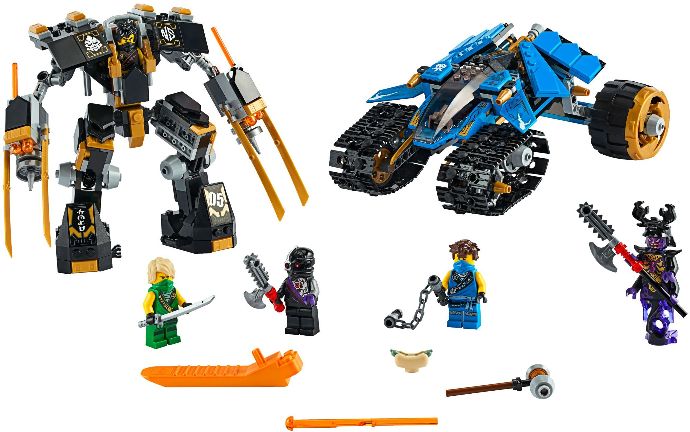 Unleash the Power of the Thunder Raider
The exciting world of LEGO Ninjago leaps off the screen into reality with the impressive 'Thunder Raider' set. Released under the 'Rebooted' subtheme, this 2-in-1 mechanized adventure toy will delight ninjas young and old alike.
Fantastical Reinvention of a Legacy
Launched on January 01, 2020, this unique adaptation leverages inspiration from a beloved action figure straight out of Season 3 from LEGO NINJAGO's TV series. This reimagination reminds fans of the saga's rich history while enhancing their engagement with a refreshed take on the classic action toy. The set was available through until December 31, 2020.
The Ultimate Ninjago Battle Awaits
This meticulously designed set transports children into an action-packed fantasy where they work alongside their favourite mini ninjas to combat the forces of evil. With separate vehicle and mech components, kids can harness their creativity to build the Thunder Raider before detaching the mech for shared play with siblings or friends.
An Interactive Journey into a World of Adventure
Packed with exciting features, each piece in this 576-piece set is crafted to perfection for children aged eight and above. The Thunder Raider comes laden with a detachable mech which reveals dual-firing missiles and an arsenal of weapons for each ninja minifigure. Lloyd wields a gleaming katana, while Overlord readies his mighty chainsaw for battle. This hands-on assembly delivers a captivating building experience that seamlessly combines education and entertainment.
Quality Guaranteed: The LEGO Promise
All LEGO playsets including this one, which weighs 0.87Kg (1.92 lb) and measures a compact 48 x 28.2 x 6.1 cm (18.9 x 11.1 x 2.4 in), abide by the highest global safety and quality standards ensuring that they consistently meet industry expectations.
A Thoughtful Gift for Curious Builders
Whether it's Christmas or any other occasion, Thunder Raider makes for a fantastic gift idea that will put an end to kids' craving for adventure. Easy-to-follow instructions accompany the set, allowing young builders to have their ninja assembly ready in no time for imaginative role-play at home or while on-the-go.