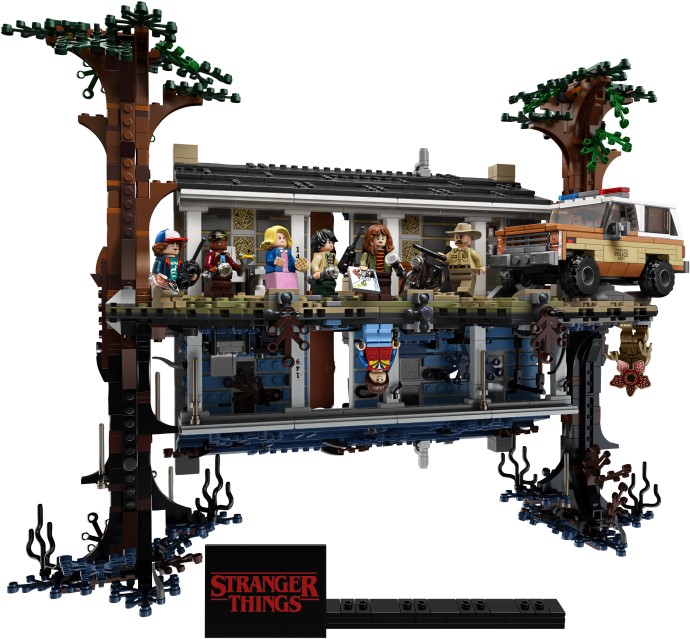 Experience the LEGO® Adventure with The Upside Down
Dive into a world of delightful LEGO® magic and mystery as we explore the exceptional features of the Stranger Things themed set, "The Upside Down". Crafted with attention to detail that would thrill any fan of the Netflix original series, this set is an enchanting journey from concept to completion. So gear up for a nostalgic trip down memory lane and engage in a fulfilling building adventure with this visually captivating LEGO® set.
A Blast From The Past With 75810 The Upside Down
Launched in June 2019, "The Upside Down" is an impressive piece of engineering from the acclaimed designer Justin Ramsden. It's an ambitious model with a whopping 2287 pieces, demanding finesse and patience during construction, thus catering exclusively to builders aged 16 years and above.
The set was well received by LEGO® enthusiasts and pop culture collectors for its authentic reproduction of iconic characters and elements from the series. Yet, fans were disheartened when it retired on 31st December 2021, making it one of the highly coveted sets in record time.
The Fascinating Flip Between Dimensions
The uniqueness of this LEGO® model lies in its ability to flip between the ordinary world and "The Upside Down", an alternate dimension portrayed in the series. Sharing striking likeness to Will Byers's house, it meticulously replicates everything from his bedroom to the living room and dining room. This real-world model comes alive beautifully with plenty of intriguing elements.
Yet, when flipped into "The Upside Down", it transitions into a spine-chilling version echoing fan-recognized elements from the series – the house radiating eeriness with vines entangling it and a dilapidated appearance.
Captivating Elements and Minifigures
"The Upside Down" boasts eight mini figures, each dressed in detailed attire reminiscent of their character counterparts in Stranger Things. Each figure comes with authentic accessories contributing to their individuality; Eleven's Waffle or Dustin's walkie-talkie, embellishing the uniqueness.
The interior space involves many attractions such as living room with interactive alphabet wall light-up function and bear trap or Will's bedroom equipped with boombox, bed, desk lamp and even his movie posters. Not forgetting the minor details like Chief Jim Hopper's police truck with removable roof or stickered element Mind Flayer drawing in attic space.
Epic Building Experience Awaits You
The set ensures a memorable building trail marked by over 2,200 pieces coming in 11 bags. Designed for a shared experience, it enables simultaneous construction of both dimensions – The real world and "The Upside Down". However, don't be swayed by its complexity; finishing this gigantic assemble task rewards you with an awe-inspiring collectible standing tall at 12", wide at 17" & deep at 8".
In conclusion, "The Upside Down" isn't just another addition to your collection; it's a testament to your love for Stranger Things and an emblem of your perseverance. Most importantly, each assembled LEGO® brick adds up to recreate your beloved Netflix series moment encouraging imagination and creativity.