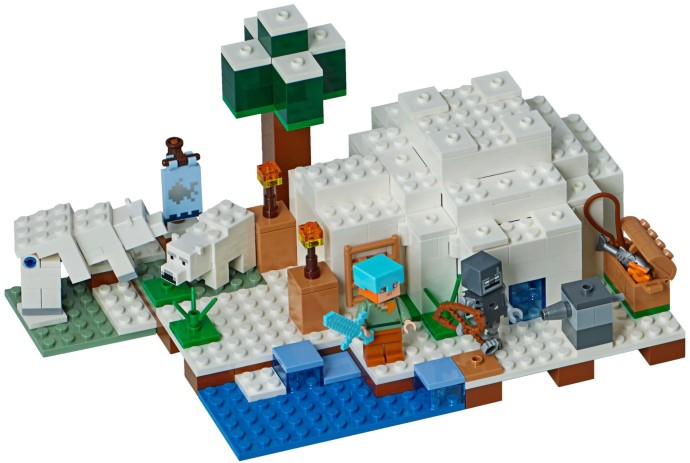 Unveiling the Magic of LEGO Minecraft: 'The Polar Igloo'
The allure of LEGO is undeniable – a creative toy that has transcended generations ever since its establishment. In the realm of bricks and imagination, LEGO provides endless opportunities to explore and construct unique models that are bound only by the limits of our thoughts. Today we set our sights on an enchanting blend of whimsical creativity and digital adventuring – the LEGO Minecraft 'The Polar Igloo' set, SET_NUMBER 21142.
Delving into The Frosty Expanses
Inspired by the icy landscapes of the globally renowned sandbox video game, Minecraft, The Polar Igloo offers a captivating encounter with nature's chillier side. This enchanting set spins an imaginative tale in a frost-laden biome, featuring an authentic, detailed igloo at its heart. It's not all barren icy emptiness though; wildlife thrives in this polar scene with statement figures of a polar bear and her cub conveying the essence of Minecraft wilderness.
Brave the Stray with Striking Defences
Snow can be beautiful as well as deadly – something exemplified by the inclusion of a stray, a dangerous roving skeleton from the frozen expanses of Minecraft. But worry not! This kit uniquely equips its players with formidable defenses in the form of an arrow dispenser. Think quick and strategize your moves – your diamond sword and your skill are all that stand between you and the threat.
Fulfil Your Inner Craftsman's Desire
No detail was spared in the creation of this wintry abode. From crafting tables to redstone torches, each accessory serves to provide a sense true authenticity to Minecraft veterans, shivering meaningful cold into your playtime. This 278-piece package encourages hands-on adventures and active engagement in every step.
A Pantheon for Future Adventurers
Conceived by designer Joe Kyde in 2018, The Polar Igloo seamlessly integrates Minecraft's famed world-building gameplay with LEGO's physical creativity. An age range starting from 8 years ensures this toy isn't just for kids; old school fans will consider it an amusing trip down memory lane while younger fans delve into new territory.
Echoes of Joy with Every Brick
The final masterpiece measures approximately 4" high, 6" wide and 9" deep – a testament to its meticulous attention to detail and commitment to scaled-down replication. Weighing just over half a kilo, it embodies authentic charm in an impressively compact format. Priced at around £39.99 / $29.99 / 39.99€ depending on your location, it delivers an unforgettable chunk of joy without causing purse strings much consternation.
So brace yourself for hours of inventive construction with 'The Polar Igloo', a perfect gift for any LEGO or Minecraft enthusiast who craves creative escapades blending the best aspects of both mind-stimulating pastimes.