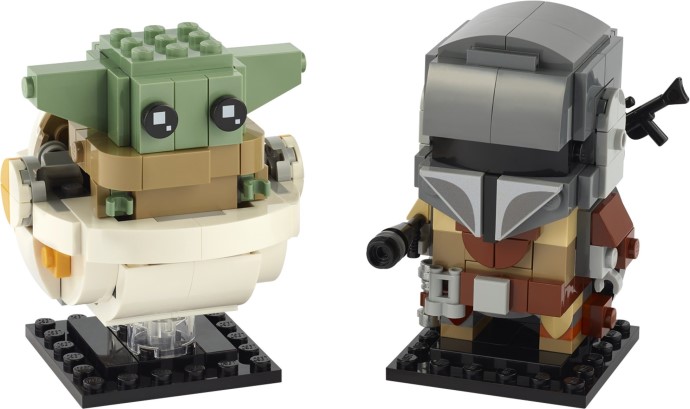 The Mandalorian & The Child: An Exciting LEGO Building Experience
Star Wars' iconic duo, The Mandalorian and The Child, is now available in an exciting LEGO® set for fans and collectors alike. Designed for creative builders aged 10 and up, this BrickHeadz™ Star Wars set combines the joy of LEGO construction with the magic of the Star Wars universe. Perfect for display or play, this 295-piece delight offers an unforgettable building experience that transports fans straight into a galaxy far, far away.
Unique Building Details for Authentic Star Wars Fun
Set number 75317 showcases authentic details from the Mandalorian's story to deliver a building experience like no other. Builders can ignite their imagination as they construct LEGO® BrickHeadz™ versions of their favorite characters. From The Mandalorian's signature weapons – a blaster rifle on the back and a blaster pistol in hand – to the Child's adjustable ears and hoverpram supported by transparent LEGO elements, there are plenty of intricate details to enjoy while assembling these captivating characters.
An Engaging Activity for Family Fun
Whether constructing solo or alongside friends and family, this Star Wars-themed LEGO set is perfect for evenings spent together in a galaxy infused with creativity and adventure. Each character comes with its own buildable baseplate, making an eye-catching display that celebrates your love for these iconic figures.
A Gift That Transports Fans to the Star Wars Universe
The combination of LEGO and Star Wars makes Set 75317 an ideal birthday present, holiday gift, or surprise treat for fans of all ages. The detailed step-by-step illustrated instructions included means even novice builders can assemble these legendary characters confidently. And with no batteries required, they can dive right into their building experience without delay.
Add to Your Star Wars Collection
When displayed alongside other LEGO® Star Wars™ building sets and collectibles, The Mandalorian & The Child makes an impressive addition to any fan's collection. With a wide range of build-and-display models and playsets available, this immersive world delivers delightful moments for both young and old fans alike.
A Building Set that Stands the Test of Time
No need to worry about quality when it comes to LEGO® bricks. These building elements have undergone rigorous testing to ensure that they remain consistent, durable, and easy-to-connect across various sets. Dropped, crushed, twisted, and heated, LEGO bricks are designed to meet the highest safety standards on Earth – and even in galaxies far, far away!
Bring The Mandalorian & The Child to life as you indulge in hours of creative fun with this engaging BrickHeadz™ construction set. Embark on a thrilling adventure as you recreate your favorite Star Wars moments and proudly display your legendary heroes as a testament to your love for this iconic franchise.