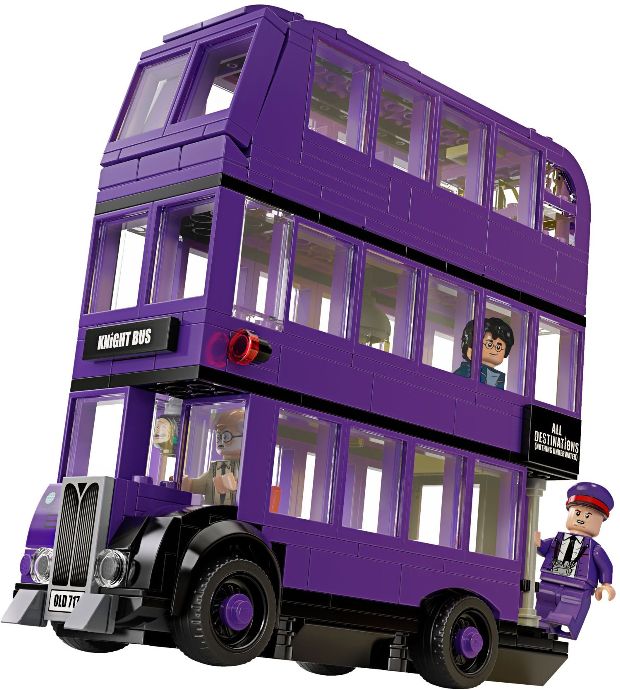 Discover Magic on the Move with the Knight Bus: LEGO® Set 75957
If you're seeking an enchanting LEGO® building experience that's perfect for a young witch or wizard, look no further than the Harry Potter™ 75957 Knight Bus™! With its distinctive purple shade and awe-inspiring triple-decker design, this beauty is instantly recognizable to any aspiring Hogwarts student. Released in June 2019 and sailing straight from the Prisoner of Azkaban era, it invites both novice and experienced builders on a wild ride!
The Witching Hour Awaits with an Incredible Knight Bus Design
Inspired by the legendary transport Harry Potter uses in "The Prisoner of Azkaban", this three-level LEGO® bus set has been designed to maximize imaginative play. Its opening hinged side panel and removable roof ensures builders have easy access to action-packed interiors, offering endless potential for magical narratives.
What's more? As your minifigures race down the mystical streets of wizarding world, the sliding bed and swinging chandelier respond to every swerve and bump, providing an incredibly fun and realistic ride.
Magical Minifigures and Accessories
Sprinkled with uniqueness, this set features three new-for-June-2019 LEGO® Harry Potter™ minifigures. It includes everyone's beloved wizard Harry Potter, the ticket taker Stan Shunpike, and the erratic Knight Bus driver Ernie Prang. The tales these minifigs could inspire are as limitless as your imagination.
Adding to the magic are a host of playful accessories. The Shrunken Head's cheeky comments will add humour and authenticity to your adventures. Plus, Harry's chest filled with a wand, letter, chocolate bar, and potion bottle guarantees that your storylines will be packed full of sorcery.
Detailed Specifications
This illustrious LEGO® set comprises a substantial 403 pieces which is pocket-friendly for its price range – £34.99 / $39.99 / 39.99€. It provides a splendid value at roughly 8.7p / 9.9c / 9.9c per piece. Designed for magical folks aged eight years and above, it measures over 6" (16cm) high, 6" (16cm) long and 2" (6cm) wide. The set is perfect for display or interactive play.
A Glimpse into Magical Transit – Conclusion
For both younger fans discovering the wizarding world for the first time or older enthusiasts looking forward to revisiting fond memories of magical transit, this Knight Bus set promises an enchanting build full of surprises around every corner. Despite retiring on December 31st in 2021, its magic continues to captivate muggles who seek to replicate their own piece of Hogwarts charm.