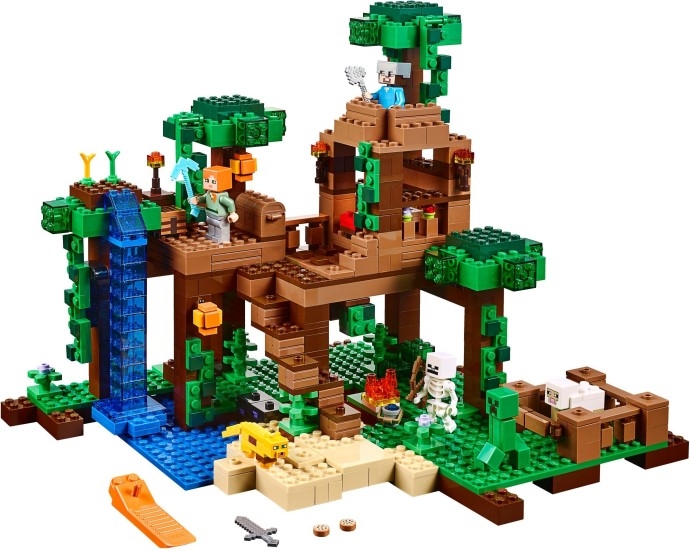 An Exciting Adventure Awaits with The Jungle Tree House LEGO Set
Released on March 1, 2016 as part of the captivating Minecraft series, LEGO set number 21125, named 'The Jungle Tree House', offers an immersive and exciting building experience for children and teenagers alike. With a rich compilation of minifigures and diverse elements from the popular Minecraft game, this extraordinary LEGO set was designed by Robert Heim, the renowned LEGO designer.
Embark on a Tree House Adventure
In the heart of fictional microcosmos, players team up with Alex to tackle an onslaught of marauding mobs. Players will find themselves using strategic elements such as hidden trapdoors that can be used to surprise unsuspecting skeletons. They must lure creepers to their doom on craftily placed trap floors, and should the action ramp up too much, they can beat a quick retreat via an integrated waterfall.
Immerse Yourself in the Captivating World of Minecraft
Each scene is brought to life with absolute precision staying true to the acclaimed sandbox video game. The enchanting familiarity of beloved characters Steve and Alex, not forgetting pesky Creeper™, skeletons, ocelot and sheep foster a vitally authentic experience, relished by Minecraft fans. The Jungle Tree House beckons children above the age of eight into a world teeming with potential adventures and countless imaginative hours.
Quality Craftsmanship and Value
The Jungle Tree House stands tall with its vast array of 706 pieces assembled together – truly a fantastic demonstration of LEGO's outstanding craftsmanship. This set measures over 8" in height, 11" in width, and 10" deep when assembled completely. Priced at £79.99 / $69.99 / 89.99€, it surprisingly provides amazing value with each piece averaging cost around 11.3p / 9.9c /12.7c.
Compatibility and Extras
Bearing the distinguishing mark of all LEGO sets, The Jungle Tree House synchronizes perfectly with all existing LEGO construction sets for even more imaginative play possibilities. Weighing only about 1.33 Kilograms (2.93 pounds), and demarcated by dimensions 48 x 28.2 x 6.1 cm (18.9 x 11.1 x 2.4 inches), this set would make an exquisite addition to any growing LEGO collection.
A Final Word
The Jungle Tree House was regrettably retired at the end of December 2017 after less than two years on the market but it will forever remain etched in the hearts of Minecraft enthusiasts and LEGO fans alike due to its meticulously crafted design that faithfully captures the essence of its video game counterpart.