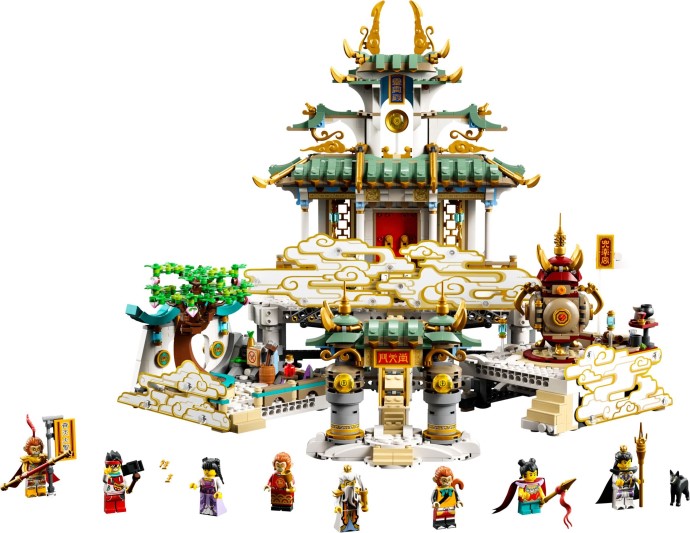 Embark on an Epic Adventure with The Heavenly Realms Lego Set
Let your inner builder and storyteller come alive with the Monkie Kid's themed LEGO set, "The Heavenly Realms". Inspired by the beloved Chinese novel, Journey to the West and adapted into the Monkie Kid season 3 saga, this set is designed to captivate children and adults alike with its enchanting Asian folklore running deep within it.
A Majestic Palace Extravaganza
With a splendid compilation of 2433 bricks that lock perfectly into position, erecting The Heavenly Realms becomes an adventure in itself. The set meticulously portrays the richly adorned palace prevalent in Earth's celestial realms. With components such as an intricately ornamented entrance gate, a serene garden flourishing with a peach tree, and a functional furnace, this LEGO set offers a tangible version of this exalted realm. A nifty feature heightened by the ingeniously designed entrance gate; kids will love operating it to display the alluring garden and furnace.
Illuminating Childhood with Legendary Characters
The LEGO set brings tales to light, capturing scenes from three timeless Monkey King stories. Loaded with miniature LEGO figurines, this array includes none other than Monkie Kid himself along with three distinguished versions of Monkey King and adorable characters like Heaven Fairy, Taishang Laojun, Nezha and Erlang – not forgetting our four-legged friend, the Celestial doggie! Throw in some transparent stands to showcase Warrior Monkey King's fearsome airborne combat against Erlang God, instantly elevating your child's playtime narrative.
An Investment in Fun-filled Learning
Priced at £159.99/$189.99/179.99€, The Heavenly Realms arrived on June 1st 2022 and is patiently awaiting eager hands aged 10 years and above. Constructing this beautifully detailed model provides hours of fun activity whilst enveloping children in mythical characters' legendary tales—an ideal blend of fun and education!
In our era of digital dominance, LEGO's Building Instructions app serves as a pleasant asset. Alongside printed instructions included in the box, your child can interactively engage with virtual viewing tools offered by this application heightening their learning experience.
A Perfect Present for Every Occasion
This gripping rendition of magical legends encapsulated in robust LEGO blocks has every reason to be presented as a birthday gesture or a holiday cheer. Ensuring conformance to stringent international safety norms since its inception in 1958, LEGO assures impeccable quality control for children's utmost safety, so you can gift The Heavenly Realms unburdened.
An Intergenerational Bridge
The iconic LEGO Monkie Kid series fosters fresh storytelling modes by revamping hallowed Chinese cultural tales into relatable narratives for today's youth. This bridge from parents or grandparents to offspring aids in preserving these traditional stories for new generations while grooming powerful storytellers – one brick at a time.