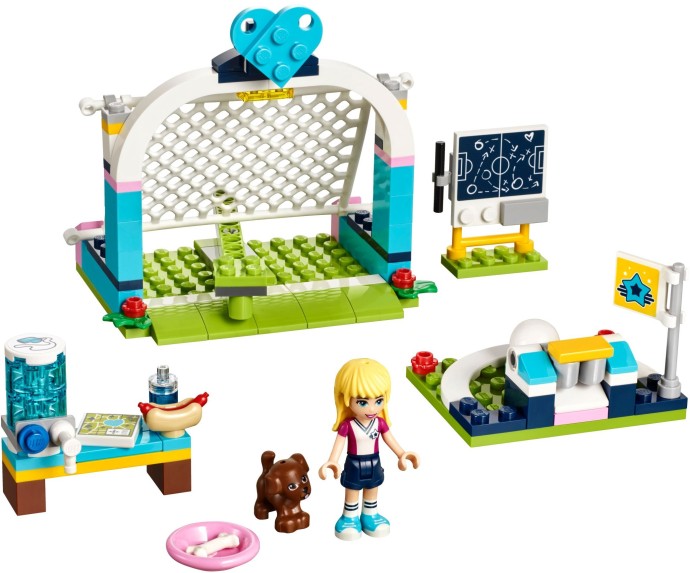 Discover the Fun with LEGO® Friends Stephanie's Soccer Practice Set
The LEGO® Friends 41330 Stephanie's Soccer Practice set is a delightful ensemble of mini-worlds designed to keep your kids on their toes. Released as part of the famed 'Friends' series by LEGO®, this sports-themed set takes playtime to a whole new interactive level. Created meticulously by designer Chiara Biscontin in 2018, this set promises endless fun and amusement for children aged between 6 and 12.
Playtime Just Got Competitive with Stephanie's Soccer Practice Set
Stephanie's Soccer Practice set is not your regular run-of-the-mill LEGO® set. It comprises a total of 119 carefully crafted pieces that, when put together, transform into an enchanting mini soccer field—with every essential detail in place. Right from a realistic soccer goal featuring a moving goalkeeper platform to a football launcher equipped with a shooting function, this set offers ample opportunities for active play—both solo and with friends.
No Detail Too Small: The Components of Fun
Cognitive detail lies at the heart of the LEGO® Friends Stephanie's Soccer Practice set. The design cleverly integrates popular elements from real-life soccer games into this toy ensemble. A strategy board for chalk-talk sessions before game time, and a drinks station for rehydrating mini-players in-between their practice sessions, are some examples of such thoughtful details.
But that's not all. Adding an extra dollop of delightfulness to the scene is Stephanie's pet puppy Dash—an eager participant who just can't resist joining the fun by fetching the ball. The charming dash helps kids appreciate the joy of pets while also encouraging them to actively participate in tossing and fetching activities.
A Friend in Need Is a Mini-Doll Indeed!
The star player of this soccer practice adventure is none other than everyone's favourite—the Stephanie mini-doll figure. Her role furthers the scope for role-play, adding an additional layer of versatility to this already interactive set.
Aspiring footballers can brush up on their strategies at the strategy board, polish their aim by practicing shots at the goal—or even break into a friendly competition by taking turns controlling the goalkeeper. This is just what they need for some heart-pounding action!
Expand Your Horizon with Heartlake City Park Sets
The fun doesn't stop there; with compatibility options offered by LEGO®, you can combine Stephanie's Soccer Practice set with Emma's Art Stand, Olivia's Mission Vehicle, Andrea's Park Performance, and Mia's Tree House sets—all part of LEGO® Friends Heartlake City Park collection—for an even more expansive playing experience.
Packages within Packages: Measuring Up to Joy
The complete set may fit snuggly within your hands—coming in compact dimensions of 19.1 x 14.1 x 6.1 cm—but packs in hours and hours of joyful engagement within its depth.