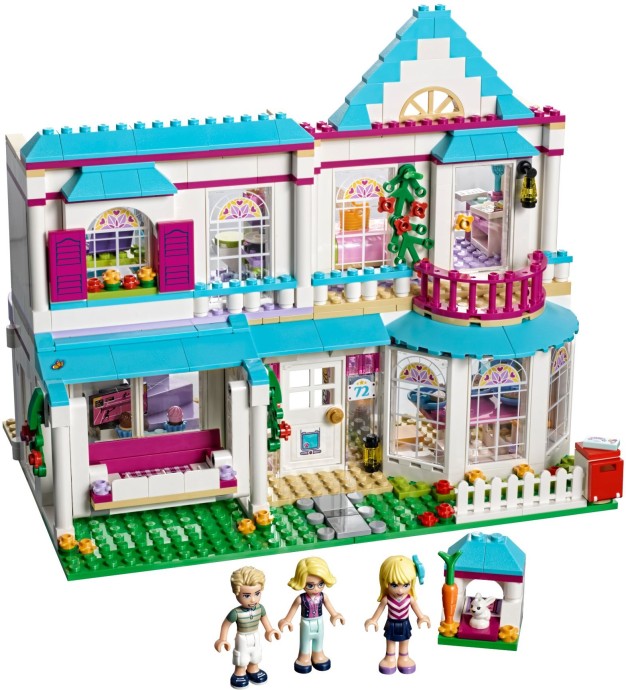 Experience the Comfort of LEGO® Friends Stephanie's House
If you're on the lookout for a fun-filled, creative adventure, it's time to get your hands on the set of LEGO® Friends Stephanie's House. With an impressive variety of 622 parts, this playful construction set offers kids a chance to delve into the Heartlake City lifestyle, constructing a house full of character and warmth. Aimed for young builders between the ages of 6 to 12, this set promises endless imaginative play.
A Peek into Stephanie's Life
A creation from LEGO® Friends Heartlake City subtheme, the delight of building Stephanie's residence is as exceptional as it can get! Discover the intricacies of her bubbly life while assembling her house. This engaging paradise comprises two wonderful floors filled with exciting elements like a cozy kitchen, inviting lounge area, chic little office, and an enticing bedroom to unravel the story of Stephanie's day-to-day exploits.
Embrace Intricacy and Detail
Vibrant in colour and representation, this exuberant construction set tops the cake with its intricate detailing. The kitchen comes equipped with an oven and fridge neatly tucked behind a bay window. The lounge is an epitome of relaxation adorned with a television. Spiralling upstairs leads you to a fashionable bedroom with a curved balcony that adds a touch of elegance. And not to forget the cute rabbit hutch for Stephanie's pet baby rabbit!
Share Moments with Mini Dolls
The opportunity to roleplay is unlimited with three included mini-dolls: Stephanie, her father James and mother Alicia. Moreover, accompanying them is Chili – an adorable baby rabbit figure – ensuring hours of animated play and countless stories infused with friendship and family symbols.
Reinvent Playtime With LEGO® Series
This ideal gift was released in 2017 under the LEGO® Friends series and charmingly stood its ground until retirement at the end of 2019. What makes LEGO® Friends special is their compatibility with all other LEGO® sets, opening doors to countless creative building opportunities. That's not all; each piece presents incredible value as it only costs around 10.4p / 11.3c / 11.3c.
An Impressive Addition
With dimensions stretching across 54 x 28.2 x 7.8 cm along with a weight balancing around 1.37 Kg (3.03 lb), LEGO® Friends Stephanie's House forms up as a decent sized building toy to add beauty to your existing LEGO® architecture collection—a perfect excuse for all ardent LEGO® aficionados!
To cap it off, this playful set packed in fun accessories lets children explore their creativity while learning about love for pets and family camaraderie— truly an unrivaled LEGO® Friends experience!