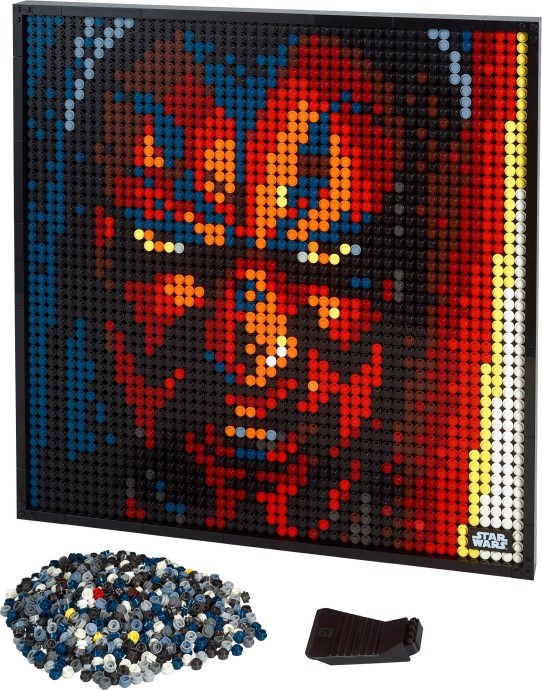 Discover the Dark Side with Star Wars The Sith LEGO Set
Unleash the power of the dark side and indulge in an immersive building experience with the LEGO Art Star Wars The Sith (31200) set. This intricate canvas art model offers fans a creative escape while paying tribute to some of the most iconic villains in the Star Wars Universe. Get ready to recreate stunning images of Darth Maul, Kylo Ren, and Darth Vader with over 3,400 LEGO pieces that will provide hours of therapeutic fun.
Relax and Create with a Truly Unique 3-In-1 Model
As you connect each LEGO piece to one of the nine included canvas wall decor plates, watch your favorite Sith Lords come to life. The Star Wars The Sith set allows adult builders to create not just one but three distinctive portraits. Crave more? Fear not! Purchase and combine three sets to assemble an ultimate Darth Vader masterpiece that will surely catch everyone's attention either on your wall or shelf.
The Soothing Sounds of Star Wars as You Build
While piecing together your galactic canvas art, indulge yourself in the complementary Soundtrack's soothing waves. Listen to fascinating Star Wars stories and interviews related to this set as they reveal themselves throughout your building journey.
Aimed at Introspective Jedi (and Sith) at Heart
Designed specifically for adults who revel in pop culture, art, design, and architecture, this 3-in-1 model caters to those seeking inspiration or simply looking for a break from everyday monotony. With detailed instructions as your guide, embark on a transformative creative adventure as you craft a one-of-a-kind portrait worthy of being showcased in your home or office space.
Quality and Durability: The LEGO Promise
As always, LEGO delivers consistently compatible pieces that meet the highest quality standards. Dating back to 1958, the brand ensures each building component in your Star Wars The Sith set will hold up over time. Tested for both robustness and beauty, this wall decor piece offers adult builders an ideal opportunity to dive into an engaging, enriching, and rewarding creative experience.
A Gift That Keeps on Giving
This captivating LEGO set, with all its complex details and unique building elements, makes the perfect gift for avid Star Wars fans or even as a treat for yourself. Embark on this artistic endeavor and discover the true essence of the dark side through the Sith Lords' stark portrayals in this magnificent LEGO Art Star Wars The Sith (31200) canvas art set.