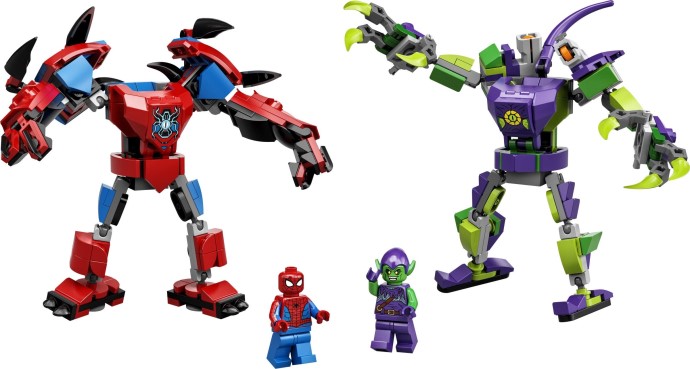 Unleash Your Creativity with the Spider-Man & Green Goblin Mech Battle 76219 Set
If your children are enchanted by the thrilling world of Marvel Super Heroes, they will undoubtedly be captivated by the LEGO® Spider-Man & Green Goblin Mech Battle set, introduced this year. This building block set doesn't just carry their favorite characters from the screen to their hands, but it takes playtime to a whole new universe of creative exploration and role-playing fun.
Marvelous Mechs: Beyond Normal Play Figures
Gone are the days when action figures were enough to satisfy the superhero fantasies of children. LEGO®, known for its ingenious designs, adds an exciting twist in form of towering monster mechs. No ordinary mechs, these gigantic allies make the heroic and villainous battles grander and more fantastical, fostering a dynamic play environment brimming with supersized action and adventure. They are not merely toys but artifacts that let young fans bring their favourite superhero stories into life.
Captivating Characters and Monstrous Mechs
The central characters of this awe-inspiring LEGO® Marvel Super Heroes set are none other than the beloved web-slinger Spider-Man and his notorious antagonist Green Goblin. Each comes equipped with their own battle-ready mech, which pay homage to their personalities and powers in comic lore.
The Spider-Man mech, armed with long stretchy arms ready to fling webs and built-in weapons, is sure to send young imaginations soaring high into the chaotic skyscrapers of New York City. The Green Goblin's gargantuan mech is fashioned with enormous gripper claws and ruthless shooters that echo this iconic villain's perpetual mayhem.
Primed for Spectacular Super-Hero Battles
Assembling each distinctive mech adds a challenging building element before letting kids dive into epic battles between super-hero and super-villain. Once configured, each battle is ripe with electrifying excitement as kids manoeuvre their monster mechs through imaginary cityscapes, unleashing awe-inspiring superhero showdowns. The inclusion of poseable joints enables dynamic positioning for all sorts of engaging battle scenarios that kids can devise.
A Treasure Trove for Marvel Collectors
This breathtakingly detailed Spider-Man & Green Goblin Mech Battle set not only entertains during playtime but also enhances room décor as a striking display piece, especially for avid collectors. For those enthralled by the wider Marvel universe, it opens doorways to amass more intriguing LEGO® Marvel mechs to stage elaborate multi-mech matches.
A Memento Ensuring Quality and Safety Assurance
Faithful to LEGO®'s tradition of quality and safety commitment, each component fits seamlessly together while ensuring easy dismantling. All pieces pass through strict safety tests such as drop tests, heat test etc., proving robustness against kid's rough and tumble play patterns.
The Spider-Man & Green Goblin Mech Battle set successfully combines creativity-stimulating construction with immersive role-play possibilities, offering kids endless enjoyment. Tailored towards 7-year-olds and above, it makes an excellent pick for birthdays or as an unexpected treat for Marvel fanatics.