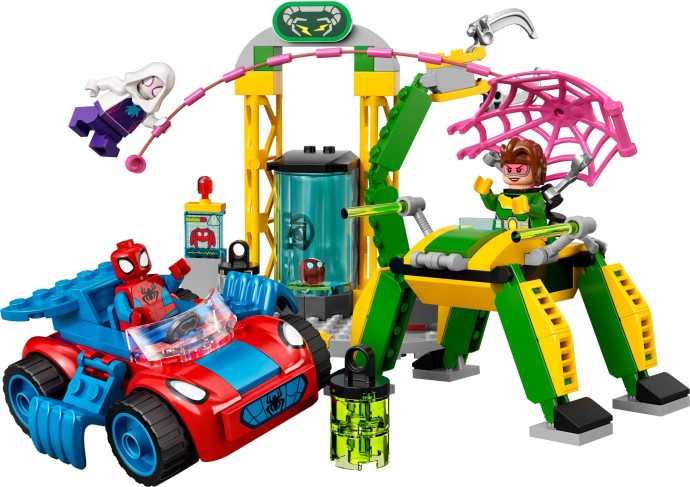 Join The Action With "Spider-Man at Doc Ock's Lab" LEGO® Set
If you're looking for the perfect gift for a youngster who idolizes Spider-Man, then the LEGO® Marvel Spidey And His Amazing Friends Spider-Man at Doc Ock's Lab (10783) set might just be your best bet. Unveiled in 2022, this fantastic creation promises a crime-fighting journey that delivers superhero action straight from the Marvel Cinematic Universe.
What's Inside The Box?
Designed by Jeremy Luettgen and consisting of 131 individual pieces, this colourful building toy is anything but average. With each box, you receive three unique and iconic minifigures – Spider-man, Ghost-Spider, and Doc Ock. You also get your hands on a mechanised spider robot, a fully equipped Doc Ock lab scene, and an adorable yet sleek Spider-Man car. Eager builders can look forward to lots of role-playing fun as they create an ensemble of nail-biting rescue scenes from this tactile playset.
A Playground For Resilient Minds
At its core, LEGO always aims to offer more than just fun. As such, this playset doubles up as an educational tool targeted at children aged 4 and up. LEGO 4+ sets are specifically designed to elevate young minds by teaching them basic building skills through play. With easy-to-construct base and step-by-step picture instructions included in the set, your little one can quickly master their first independent build.
A Battle On Different Grounds
This LEGO set takes its inspiration from the hot Disney+ Spider-Man TV series. It's packed with action starters that present kids with entertaining challenges as they attempt to help Spidey and Ghost-Spider save Trace-E from evil Doc Ock's menacing lab. The lab comes complete with a holding cell and an interactive robot designed to capture our favourite superheroes.
Fueling Imaginations And Adventures
The well-thought-out features of this LEGO set allow the imagination to run wild. Whether climbing the scaffold or launching a web attack against adversaries or saving innocent victims, the action never ends! Kids will get a kick out of watching their favourite superhero hang off the lab's robotic arm as he saves the day once again.
A Gift Like No Other
Wrapped perfectly in a box that measures 10.3 x 7.5 x 2.4 inches, this LEGO set makes for an incredible birthday or Christmas present for any child who harbours dreams of zooming around town in Spidey's webbed suit. With high-quality construction and alluring features like buildable truck toys and minifigures not to mention adhering to stringent global safety standards, it promises hours of engaged and safe play!
The power to invent thrilling battles and recreate unforgettable scenes from their favourite TV show lies in the palm of their hand with this stunning LEGO® Marvel Spidey And His Amazing Friends Spider-Man at Doc Ock's Lab set!