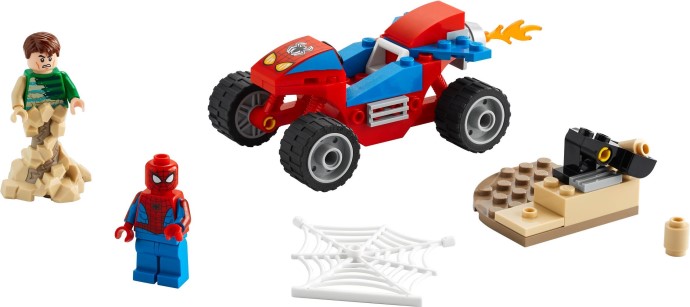 An Inside Look at the Spider-Man and Sandman Showdown LEGO Set
Whether you are a keen LEGO collector, a Marvel enthusiast, or a parent looking to keep your little one creatively engaged, the Spider-Man and Sandman Showdown LEGO set (76172) is an excellent pick. This remarkable playset is part of Marvel Super Heroes theme and is specifically designed for fans of the Spider-Man subtheme.
A Glimpse into the World of LEGO Superheroes
Introduced on New Year's Day in 2021, the Spider-Man and Sandman Showdown is an immersive LEGO set designed to foster imaginative play, develop dexterity, and build confidence in young builders at least 4 years old. It presents an unforgettable playground setting where Spider-Man engages super-villain Sandman in an exciting duel. The playset includes not just two impressive minifigures but also features a robust spider-buggy along with a sand catapult to further fuel your kid's imagination.
Nurturing Young Minds
This meticulously curated set from LEGO serves as a fantastic educational tool. A Starter Brick chassis aids young builders in embarking on their construction journey while letting them savour the sheer joy and achievement they derive from creating something with their own hands. After all, there's nothing quite like the gleam in your child's eye when they show off their constructed masterpiece.
Designed for Maximum Fun
The Spider-Man and Sandman Showdown set is crafted to maximize the fun quotient for both kids and adults. With interactive elements including a sand tornado and various accessories inspired by superhero films, youngsters not only get to recreate classic movie scenes but also are encouraged to invent countless superhero adventures on their own.
Details that Make All the Difference
The elaborate design elements of this 45-piece set—which comes with its simple building guide—are tailored specifically for children as young as four years old. This family-friendly playtime toy measures over 1 inch (4 cm) high, 3 inches (9 cm) wide, and 2 inches (6 cm) deep, making it perfectly suitable for small hands to handle effortlessly.
The Future of Building with LEGO
Beyond traditional paper instructions, this marvel of a set also provides access to digital Instructions PLUS – thanks to the free LEGO Building Instructions app. The application allows kids to zoom in, rotate, and visualize their building work in progress. Without ripping any excitement away from constructing playsets with physical bricks, it introduces today's digitally savvy kids to a more dynamic way of playing with LEGO.s
In conclusion, the Lego Spider-Man and Sandman Showdown (76172) offers children not only loads of fun but also enhances their developmental skills. Furthermore, it paves the way for some precious shared moments between parents and their mini superheroes – making it a great addition to your child's toy collection!