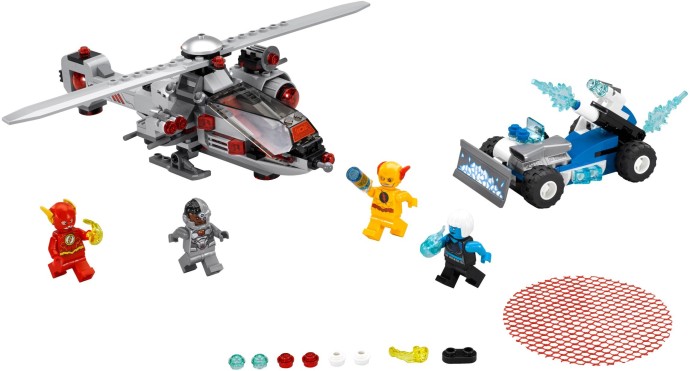 DC Comics Super Heroes
Theme
Racing into Action with Speed Force Freeze Pursuit
If superheroes, engaging challenges, and creative play excite you or your little one, LEGO® has something to offer – Speed Force Freeze Pursuit. This toy set, released under the DC Comics Super Heroes theme and Justice League subtheme, is an absolute treat for every DC Universe fan.
Oozing with creativity and thrilling play possibilities, the Speed Force Freeze Pursuit set was designed by Bjarke Lykke Madsen. It hit toy store shelves on 1st of January 2018 and was officially retired by the end of the same year.
Packaged Adventure in Every Set
Each box of Speed Force Freeze Pursuit comes packed with 271 pieces that allow you to build two distinctly thrilling modes of transportation. Once complete, these superbly designed miniatures measure compactly at around 35.1 x 18.9 x 5.6 cm, allowing young justice league fans to enjoy their little superhero adventures in small spaces.
The set comes with four minifigures – The Flash™, Reverse Flash™, Cyborg™, and Killer Frost™ – making it a microcosm of the entire Justice League series.
The CyborgCopter Vs Ice Car Showdown
Now let's deep-dive into what really sets apart this LEGO® set – its splendidly designed main builds. Watch your heart pound with excitement as you build and command The Flash and Cyborg in their pursuit against Reverse Flash and Killer Frost.
The CyborgCopter is not just any regular helicopter; it features an opening minifigure cockpit, a razor-sharp rotor blade, a net shooter for capturing enemies, detachable dual stud shooters and radar that can double as minifigure weapons! On top of that, the copter exudes style with its translucent-red light-style elements.
Equally formidable is Killer Frost's Ice Car. Armed with a fluctuating bulldozer blade for defense and attack, dual stud shooters for long-range assaults and adorned with stunning translucent-ice-blue elements portraying her chilling power –it's built primed for action-packed duels.
Extra Elements for Enhanced Play
Adding fuel to these icy-hot battles are ten assorted translucent-ice-blue Power Burst elements that can be used to give your builds and minifigures supercharged power-ups! Also included in this kit is a buildable blue Energy Infuser; imagine it as an epic artifact of unimaginable power that heroes and villains alike may covet!
Fuel Your Justice League Collection
The adventure does not need to stop here though! The Speed Force Freeze Pursuit can be paired up with 76096 Superman™ & Krypto™ Team-up and 76097 Lex Luthor™ Mech Takedown sets for even more Justice League fun!
A Truly Unique Addition to Your Lego Collection
In summary, whether you are looking to introduce your young one to the thrilling world of superheroes or whether you wish to bring back memories from your own childhood days – the Speed Force Freeze Pursuit Lego set promises a world of fun-filled imaginative play! Owning this set truly means possessing a small yet exciting piece of DC's magical universe!